His Secret
January 11, 2010
His words cut holes in my skin,
His eyes enflame my cheeks
And dye them red.
Shards of glass slice my eardrums
With every lie he says.
But even from behind his fiery gaze,
I see the stars the dare to shine,
The sparks of love that give him away,
Reminding me that his heart's still mine.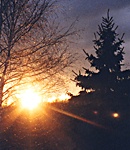 © Christy S., Germantown, NY