a laundry list (of things i can't tell you)
December 27, 2009
i like

the shading of your hair
and the shaping of your lips,
the texture of your skin
and the friction of your hips.

i like

the rhythm of your voice
and the clatter of your feet,
the way you strive for victory
and won't admit defeat.

i like

the brilliance of your smile
and the curving of your cheek,
the iridescence of your eyes
and each pigment's tiny streak.

i love

to think about your hands
in comparison to mine
and how i might rejoice
to feel our fingers intertwined.

i like

nearly everything about you
and everything i don't
i point out extra loudly
to hide the things i won't

because i like

you.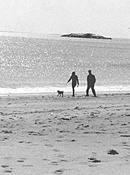 © Megan S., Marblehead, MA