Glory and Hate- Best Friends
October 27, 2009
oh joyous hate!
oh blood stained glory!
why do you show yourself?
do you enjoy taking the lives of others-
spilling blood onto the ground,
and hands of others?
why does everyone fight the wars of others?
is it because of you, hate?
is it because of you, glory?
hate-
you fill others with feelings of destruction.
glory-
you encourge others to go forth with the destruction.
glory and hate-
meeting only with the death of others.
is this a coincedence?
i think not.
it is you who cause the killing;
the spilling of blood;
the madness of murder and war.
in society killing is murder-
indegenous hate,
but on the battlefield,
killing is glory-
hate's best friend.oh blood stained hate!
oh joyous glory!
please don't take anymore lives.
please.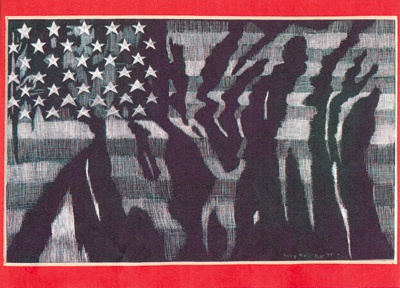 © Haley M., Ellinwood, KS