As Nature Recalls
September 11, 2009
Quiet desperation fills the lungs,
Of quaint songbirds,
As they swiftly trod along their branches.

Each with the majestic coats of royalty,
Catching golden rays of the sun,
Against the bleak background of a dense forest.

Watching them dance so firvolously,
Nature cues in a swift breeze
And one by one, leaves fall from the sky.

Instinct smells of soiled innocence,
When a pure act conducts distress,
Fluttering chaos drips upon the setting sun.

Once budding flowers wilt with shame,
The scene buries our two lovers,
Amongst the leaves that carried out their fateful deed.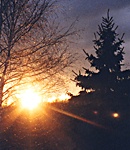 © Christy S., Germantown, NY