Our Winter
February 14, 2021
Near the window of my house,
I try to taste the
wild but nevertheless real air
in every moment of winter.
Many rickety lanterns
with the color of red-and-white
sway in the ancestral trees.
They eagerly yell and smile
to the people who walk on
the nearly deserted streets.
"How are you doing today?"
Rolled-up red leaves
lay and float on the
yellow slick roads.
Families sit
beside brilliant bonfires.
The fire of winter warms
and hugs every one's heart
in this endless season.
"We are really good."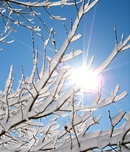 © Barbara S., Hoffman Estates, IL