Migrations
May 23, 2019
That winter, we drove cross-country through ghost orchards
where cloves of wildflowers withered

in sheets of snow, your breath bristling my throat
while goldfinches sang
from the wisteria trees, bare branches drooping
the way your shoulders did in the shower,

where no one could see you weeping as clumps of hair
encircled the drain like molten feathers,

your body fading slowly to past tense, a hollow home
you could not exit out of.

Which bodies do we honor? The men on
football fields who destroy their flesh

to a chorus of adoring roars? The churchgoers with knees folded
in prayer, searching for holiness

in the communion wine burning through their empty stomachs?
The whole drive home, I kept thinking of escape--

the migratory birds flying southbound, searching for someplace warmer than here.

The shallow curve of your ribs, shrinking into
the negative space of a photograph.

Even now, months later, I am haunted by the faint voices
of birds traveling across the distances to
my small heart, their beaks carrying your hoarse cries.
Understand: there are moments softer

than ourselves. The ghosts of your fingers laced in mine, your pulse
beating slow and warm under my wrist.

Which losses do we mourn and which do we bury?
What light stumbles to greet us?

Listen: even wings can be formed out of nothing.
Here, come with me.

Let us glue each feather back together until
we're strong enough to take flight.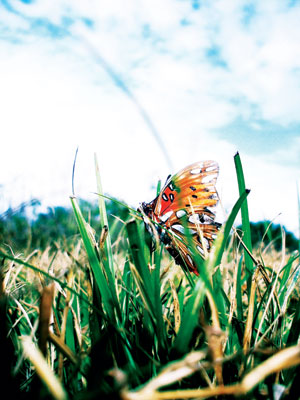 © Ashley B., North Port, FL