My Love, the Wind
May 18, 2014
I slump upon the swing
A lullaby it sings
Imploring me to sleep
And ease my suffering.
Then Hypnos beckons onward
To a forest, to a stream.
Too late, I have been captured
By reality.
A tear flows down my cheek
No comfort, no relief
Till I feel the wind's embrace
That leaves me trembling.
The wind caresses softly
He whispers in my ear
"Only I can set you free,
Only I will hold you dear."
He leads me down a path
To a forest ever-green.
He dances with the shadows.
He twirls among the trees.
He ripples in the pond.
He sits among the leaves.
Yet joy he cannot cherish
If he is not with me.
And though I wished to live forever
In his forest green,
My heart of hearts kept thinking
Of my family.
So he kissed me ever softly
Then I woke up on my swing.
Everything is normal,
And the wind is beckoning.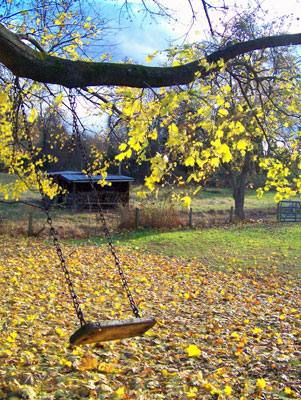 © Margaret G., Hillsborough, NJ