Lifetime of Colors
February 28, 2013
Crimson is passion and love and desire
Grey is modesty, dignity, sadness and tire
Orange warmth and flamboyancy, raging with bright
Yellow is illness and hazard, but hope, joy and light
Green is healthy and lucky and the color of Earth
Also youth and renewal, and a symbol of birth

Blue is a calm one, with peace and tranquility
Purple royalty, arrogance, a sign of nobility
White is purity, simplicity, cleanliness and bless
Black is evil and elegant, with richly dark depth

Red shows danger and fire, war, fighting, blood
Brown is dull, neutral, boring, the color of mud
Orange demands your attention, turns sharply your eye
Blue is cold, sad, depressing – a disheartened sigh
Yellow deceit and dishonesty, sickness, mistrust
Scarlet passion and heat and the fierce thirst of list

Colors fill life and dictate our emotions
Our world is made up of light-frequency notions
How else should we feel such strong things when we look upon red?
Why else would black serve to so deeply invoke thoughts of the dead?
All thoughts have a color, if you know it or not
Hues are deeply ingrained in the process of thought

We all have a color that appeals just to us
Me, over green I will instantly gush
Purple is second, so bright and so sweet
Teal is the ocean, a tropical treat
Our eyes are all different, thus colors will vary
But our minds and these colors are typically married

Pastels are spring, and the colors of young
Darks are the sinister, deep and mysterious ones
Brights represent energy, excitement and such
Neutrals are considered to not contain much
Colors are colors, but shades make the unique
All eight hundred thousand of them that we see

Textures and shapes, the whole world of décor
Imagine just of great of a terrible bore
Without color, our world would be nothing but drab
Such colorless life would be almightily sad
So celebrate a life filled with rainbows and spark!
Embrace lovely colors, and their subconscious mark!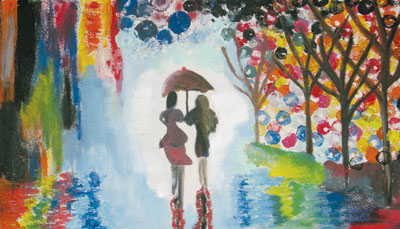 © Uzair M., Faisalabad, Pakistan