my daddy has a golden bird
August 12, 2012
My daddy has a golden bird
that clicks and whirs and dings and dongs
and sings its silly birdie songs
when heads roll on the floor.

My daddy is the king you see,
He guards the throne for crown prince ME
And therefore kills the saucy knaves
Who would enslave us (fie on slaves!)
And puts them in his metal cage
(Where they begin to rant and rage)
Then chops their heads off
Nice and clean
With his great choppy chop machine.
They trouble us no more.

And all the time, while chops are chopped
And necks are sliced
And heads are lopped
The lovely little bird doth sing,
Enchants us with his shining wing,
And gaily chirps throughout the day
While daddy puts the knaves away
To peaceful white oblivion.

Therefore, throughout my daddy's land
No thief nor knave nor robber band
Dares steal without a trembling hand
For fear of retribution.

They scurry, fearful in the night
They always run, they do not fight,
Ears open for that dreadful sound
More dreadful than the royal hound:
The ceaseless singing of the bird,
A golden bird, my daddy's bird,
Which tweets away whilst heads do roll,
Enumerates the dreadful toll,
My daddy's retribution.

It makes them think depressing thoughts,
They dream such awful dreams;
For every time the birdie sings,

A little angel screams.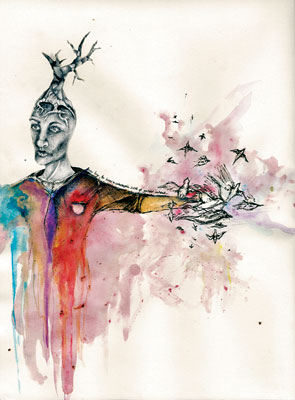 © Alice B., Sarasota, FL