Death to Death
January 8, 2012
Trembling down the staircase,
grievers in my face.
She said, "bathe the body in white"
an to be apart of the lacrimosa.
Such a dirty deed should be a sin,
shed tears for unprecedented reasons!
I never cared for him,
he died a wasted life like his wife.
Now I've been cursed, to take the manor,
directing, correcting, the fools who don't know better.
In the will it should of said,
my soul doesn't belong to me.
His so "treasured" children,
screeched when the black doves flew into the air.
Their voices only know whispers, an screams.
Torture comes in all flavors,
even the mourning of people who've
been playing a role this whole time.
They're so good at it,
but not even greedy,
selfishness can give them"their" money.
The clothing was acceptable.
Chains, straight jackets, pain.
If I was that man,
I'd be laughing my "second" heart out.
I have no one to love.
I only know how to kill.
My lifespan is paused, by stupidity.
It feels like adolescence all over again.
I just want to jump off that cliff,
slam myself into the black sea,
and drown to the bottom of the ocean.
"Close your eyes!",
parents commanded there children
I would want my eyes open,
cause each time I start caring less an less.
Now you know why,
I don't cry at R.I.P. gatherings.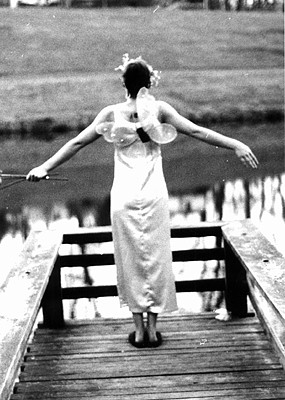 © Jennifer T., Cincinatti, OH