Death
November 19, 2010
Death is the cost of any life,
Whether long, short, or marked by strife.
Because Death cuts us like a knife,
And causes the living pain too rife.

Death doth in the shadows grow,
And hunts us in rain, sleet, or snow.
And when the blood begins to flow,
Death's dark eyes, with glee do glow.

When Death rears its ugly head,
We are overwhelmed by fear and dread.
It leaves us not time to bury our dead,
When Death cuts our life's thread.

All places are Death's hunting ground,
Our safe haven has yet to be found.
The wings of our life, Death hath downed.
What's tried to swim away, Death has drowned.

And Death's great trap has now been sprung,
From the neck, we are to be hung.
And drain the air from human lung.
For our lives, away Death has flung.

But we do not fully die,
In deep sleep do we now lie.
For Death's plan has gone awry.
And the doom of Death's reign is nigh.

For humans are again to rise,
And we will take Death by surprise.
And there shall be a new sunrise,
For Death shall be the one who dies.

And in our life we will rejoice,
For all else be a foolish choice.
So now we speak our mortal voice,
And make our cheery, jubilant noise.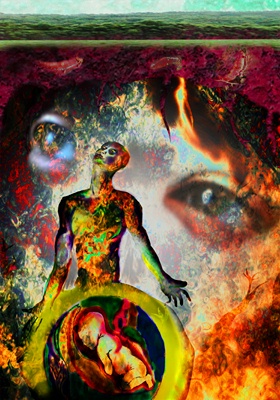 © Tom M., Philadelphia, PA