One Second
March 31, 2009
Running
Sitting astride a cantering horse,
i am free.
The world stands still.
Time stops.
My head clears.
Up the hill he runs,
over a jump,
My heart soars.
Pounding inside my chest-
inside my head-
my eardrums-
adrenaline rush.
So much
In so little time...
All in a second one horseback.
In one second I could be lying flat on my back-
Dead.
But I know that he will watch out for me.
I trust him
I love him.
if I don't trust him
then how can I expect
Him
To listen to me
Tor trust me?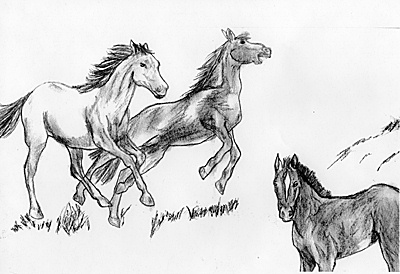 © Ali A., Eau Claire, WI