Me, a Tree
November 25, 2014
I have strong roots: my family and friends. They are here to support me.
I have learned much from them and continue to learn from them, their words a rich soil my conscience has drawn from.
I may now disagree with them on some topics, respectfully, and that I must. They have, with enduring and honest love, prepared me to think independently.
I can now formulate my own goals and objectives and develop self-confidence.
My trunk is sturdy and gets thicker through the years as I gain experience and wisdom. I must focus on reaching higher, yet I also must branch out to new possibilities.
However, in my branching out, I must be careful not to grow so heavy on one side or I will collapse even with my strong roots and sturdy trunk.
Instead, I must work towards a natural balance.
I must also care for others and be a role model for them by staying strong and resisting the wind so they will be propelled onto their flights and adventures.
Indeed, helping others in need and watching them grow will give me strength for my own journey; in fact, it may be a vital part of my life's mission.
Please accept, self, that you are a deciduous tree. Sometimes you will blossom, sometimes
you will have those moments that shed your composure and cause your emotions and true colors to be exposed, whether they are admirable or not, and sometimes you must be quiet, calm, and preparing to blossom. But
you have an important role in society.
You must breathe in, breathe out, as holding your breath and dwelling in distress will not only hurt you, but also limit the amount of oxygen you give out to the awaiting animals.
You must open your heart to them, and allow them to nest in you and regain their strength. You must give others some of your sap, the knowledge flowing inside you that can energize a child's mind.
You must make your branches resilient, so after the inevitable storm winds break and crack them, your inner green stem can repair and regrow.
You must let people trim your branches and leaves sometimes, even if it hurts, as they are only helping you grow right and shaping you so you can shape the world in the future, for the future.
Blossom in the spring, as it is your growth moments that you must not miss.
Work in the summer, as your new growth must be refined and strengthened.
Feel in the autumn, as it is your celebration of humanness.
But most importantly,
when year's new, think in the winter, be quiet, just now, so you can blossom your best when opportunity greets you.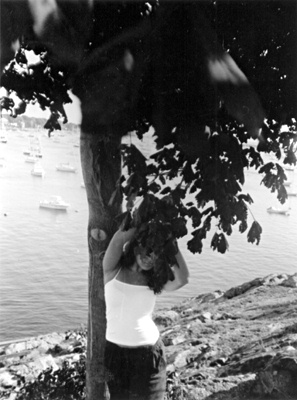 © Lauren M., Marblehead, MA