My Life
April 15, 2011
As one would the rind of an orange
I peel my outer emotions away.
Showing what truly lied underneath
Since that cold October day.

Gathering up all that is hidden
To display is not easy to do.
So please be mindful of that,
This I implore of you.

Moons and stars ago I was hurt
And scars plagued my heart.
Now I tell you my tale
Beginning with the start.

Father was truly a good man,
But for when seen through a bottle.
One may then view him different,
For during this I'd receive a throttle.

Mother was manic and often
Would rave about my state.
Slowly driving me to madness,
Hers, but not my fate.

Sister had a good palate
But her ears good spies.
For when I confided once
She filled DCYF with lies.

Brother one's return was rejoiced
For he had served on the line.
But he was much like father
And in such would chill my spine.

Brother two was in one part like mother,
Being manic but still kinder.
Sometimes too kind for my liking,
Leaving me, when in love, a painful reminder.

As for me my life is this
And I pray you will still see me.
For though all this told lies beneath,
My love for you flows free.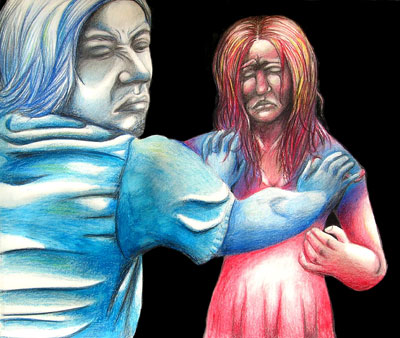 © Jessica P., Bethel Park, PA