The Story of an Amish Girl Named Edaline
April 29, 2011
Frozen lake, asleep on her sixteenth birthday
Took her sixteen years to dream next to me
Nearing dawn, the B train comes in early
She's alarmed and tugging on my sleeve
I took her hands, tended to her fearful eyes
I said, sing a song. Sing with all your youthful voice
Sing me a hymn of hope, of your Pennsylvania nights
No one can hear us over the subway noise

But she wants to see the world,
Begs with deep blue eyes.
She wants to take the train,
A stranger to sit beside.
To be an exhibitionist
Bring a guitar to life
Buy a pack of chewing gum
Chew six at a time

Laughing quietly, she pulls up my arm
Says, I want you to watch me dance,
I was a dancer in my mother's mirror
Twirling in just chipped reflections then
Now, I'm the incarnation of impunity,
I'll glow in the name of my friends and soul.
See, everytime I come home it's always snowing
But this time I'm not going home cold.

No, I've been a faceless doll
I was accesorized
Caught in the howling hum
Of a girl's design
But I'm not a child anymore
I've got this year to find
What G-d bestowed humanity
Of his immeasurable rite

It seems you already know what to do now
It seems you've known it for a while
She says, untie my hair, and
God, just f****** take me somewhere

Oh, this year I'm a thunderstorm
And I'm exempt from trial
I'm ready to thunderstorm
And you won't testify
No- you won't! So,
Where is that ferris wheel
Where are the neon lights
I read there's a festival
On a streetlamp sign
See, I'm already catching up
I'm down with the guys
I saw the cutest boy
With the cutest smile
And I told him so!
And now that he knows my church,
Now that he's here tonight
He's gonna take me on that ferris wheel
'Till I'm sick inside
And then we'll go to a nightclub
Where I'll dance all night
You'll excuse yourself for a minute, and
Return with the most expensive wine
Oh, we'll drink it all!

Then we'll make our way home
No wait, you'll carry me home too

But we won't even make it there!
We'll sleep under the wind turbines
Which spin like that ferris wheel
We'll never remember why we did
This year is all I've got
I'm ready to shed my skin
And these are my mother's clothes
I'm willing to sacrifice

She closed her eyes, slowly forgetting what she'd said
Dreaming now with her head on my chest
Sixteen years worth of dreams
Took her sixteen years to smile when she sleeps

But I won't let you down
These dreams will crystallize
When you wake up,
I'll have them memorized
I'm happy I met you, girl
Glad I left my room tonight
Well, I was a thunderstorm
But an uglier kind
Oh, we'll know no boundaries
While we're in the sky
Bursting with sound and grace —
I promise! I promise,
The ferris wheel never stops
It powers the neon lights
But what's a ferris wheel
When we can climb the wind turbines
And when your bored of that
I'll show you the satellites.
You've never seen a telescope
I guess we'll have to fly.
Sleep well my new friend;
Sleep tight.
These just may be the last of dreams
You'll be dreaming for a while.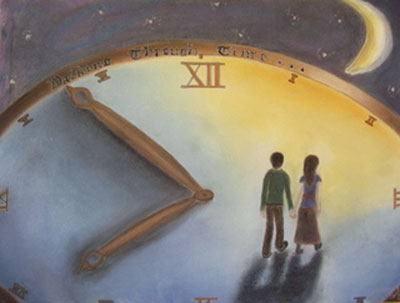 © Carollynn G., Hawthorne, NY