Pleasant Way to Die
December 14, 2008
I feel the rhythmic beating in my quiet chest from my loud heart.
Quick and timeless as it moves me.
Shaking from my bloody bones through my human flesh...
The bright lights dimming as the beautiful man holding the silver gun staring at me
Eyes colored red as the blood in my very veins; his eyes were.
My own skin crawling like ants walked along it.
My white teeth clattering inside my moist mouth.
The silence was overwhelming...
But I will not scream!
His handsome face grew vile and cold.
Beautiful muscles,
and beautiful power he had.
I wanted to touch him,
to drink and devour that power away from him.
I wanted to make his desire to kill me turn into lust.
I wanted to be touched by warm flesh.
I wanted him to devour me in kisses, tougue and teeth.

The lights went out,
a chuckle purred through the air.
I smiled and closed my eyes.

A hand pressed upon the back of neck.
Pulling me forward until my chest hit his silver gun.

He reached out and embraced me with lips.
Soft and warm lips.

Moving mine, carving mine away.

He bruised my mouth with such force as I let him kiss me.
Tongue pushed inside my mouth,
exploring down my throat.

He kept going and going for longer than I thought he would.
Then..........

*Bang*



He shot me as my wet lips and long tongue moved for the last time with his.
I slumped in his strong arms and smiled sweetly.




"How..romantic.."






I laughed until I was gone.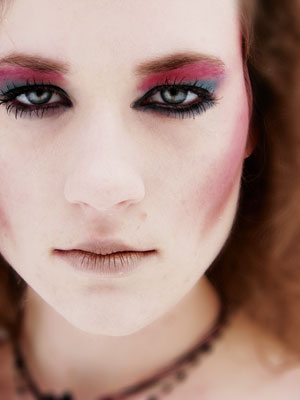 © Elizabeth H., San Bernardino, CA