Indigo
May 4, 2009
The color of my bow,
Brightening my sleek, black hair,
Matching my new summer dress,
Its skirt fluttering in the air.

The hue of the sky,
Polka-dotted with fluffy clouds,
As I laid in the greenest of grass,
Watching the world spin around.

The color of the Kool-Aid,
That stained his lips,
As he leaned down,
And gave me my first kiss.

My thirteenth birthday party's balloons,
Corresponding with the icing flowers on my cake,
I wished with unopened eyes,
My wish the smoke's to take.

The coloring of my first car,
A sporty vehicle with tinted windows,
In the car I went to fast,
And ended up with a broken nose.

The streaks in my black hair,
My rebellion shining through,
It matched the color of my father's face,
And my mother's, too.

The silk of my prom dress,
As I danced the night away,
With my friends by my side,
Memories of my high school life began to fade.

My dyed bedspread,
Laying on my new college bed,
A new freshman and scared to death,
I can do nothing but endure my college years with my new best friends.

The vividness of the ribbon,
Tied around my diploma,
As I ended my college years,
And was ready to start a new life in California.

The irises of his eyes,
Made me smile nervously,
His grin made up of white, straight teeth,
That made my heart thump uncontrollably.

The color of the ocean,
As he got down on one knee,
And I felt tears falling from my eyes,
As he questioned, "Will you marry me?"

The paint on my nails,
A vibrate version of a mysterious reoccurring hue,
Following the traditional rhyme,
Calling for something blue.

The semblance of the blanket,
Warming my new son,
As I held him in my arms,
Knowing the toughest part of life had just begun.

The fabric of his tie,
As I straighten it with a reassuring grin,
He was happy to finish high school,
But didn't know how much havoc was going to begin.

The tinge of his veins,
As they rose above the wrinkled skin of his wrists,
His last breath given to me,
And I saw my husband die in peaceful bliss.

The feather of the bird,
That sat on my window sill,
Within the confinement of the nursing home,
The world was awfully still.

My son's Sunday shirt,
As he walked me to the pew,
Sitting right beside me,
Until the sermon's close had finally drew.

The tint of my surroundings,
As my breathing began to slow,
My death was finally coming,
As the heart monitor beeped a steady drone.

Feeling as though I've lived a fulfilled life,
On my back wings have been sown,
My past life was beautiful and vivid,
Just like the color indigo.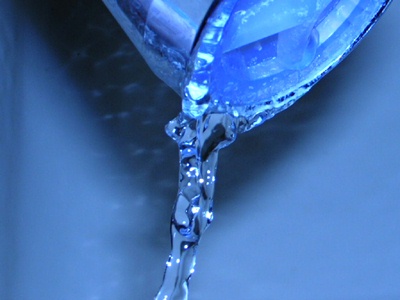 © Brittan S., Claremont, CA