Dear Father in the Sky
November 2, 2018
I proceed here to say
Thank you for today
And I cross my fingers
For a new sun ray

I hope you don't mind, but I do have a question
Since solitude clutches me, hear my confession
Each night I withhold a seething aggression
Each night it is buried under mute suppression
As I suffocate in this airless depression

What is it that makes a human unique?
Is it the way we use language as a way to speak?
The way we hold value to what is antique?
The way we give Earth our own personal tweak?
The way we loath power but also the weak?
The way some give your name a very loud shriek?

Is it just in our heads as an aimless screening?
Can it be replicated with simple machining?
Is all that it takes just some repeated peening?
Is it luck that we're all even here convening?
Is there even a soul that needs some cleaning?
Is there ever a time you bother intervening?
Is there really a point, purpose, or meaning?

Dear Father in the sky
Oh please tell me why
If it matters at all
That I even cry

Forgive me, my lord
Bless my gut with a sword
Or my head with a gun
Don't leave me ignored

It's all going to sever

S
E
V
E
R

If I have no purpose, then why am I staying here?
It would be so easy if I could just disappear
Jab my eyes out or my chest right through with a spear
And wander in happiness, nothingness every year
Surely my loved ones would shed a tear after tear
That's what the chemicals in their brains do for careers
Saying, "wail though the end is just destined to be near"
I'll soon be a voice they will never get to rehear

I heard that life has the meaning I give it
Is that an illusion to make me commit?
What if my meaning is to be a spirit?
Or sleep in a casket inside a deep pit?
I'd sadden you if I lived under some grit
But if you're not there, then why give a sh*t?
Just give it some time and they will all omit
As they still live on under trivial writ
This game gets much harder and I want to quit

When sense tries to greet me, I become a lunatic
My sentiments drip away, making me very sick
I know who I love and with them I will always stick
But I'm just a speck that existence can simply flick
I trust that your love cradles even a heretic
Don't let me be wrong and have all this be but a trick
I hear the years rushing right by with a tick tick tick
They tell me so daily, I can't drown them with music
But wait, I know how to get my questions answered quick
To see if there's truth to anything that's angelic

Dear Father in the sky
Oh please tell me why
If it matters at all
That I even cry

Forgive me, my lord
Bless my gut with a sword
Or my head with a gun
Don't leave me ignored

I'll close my eyes forever

F
O
R
E
V
E
R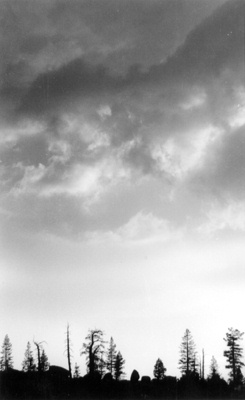 © Steve S., Marblehead, MA