Proof of Christ's Existence
June 11, 2012
The first I'm going to say is that this article isn't dissing any religions or beliefs.

To the point-Christianity has physical proof of existence. Our universe is made of complex building blocks, so complex it's virtually impossible for it to just pop out of nowhere or happen by chance. Cells are made of organelles, which are made up of even more materials so tiny some are beyond microscopic. Cells are living factories that make up orangisms- us, for examples. The organelles keep cells functioning, and therefore keep our bodies intact. All mechanisms that perform jobs have a creator. Who is our Creator, but Jesus Christ? Some people, such as atheists, believe that we were descended from apes and monkeys. Have there been any recent occurences within the last five hundred or more years of more people transforming from chimps and gorillas? Just because they are somewhat intelligent animals doesn't mean we are, too. They can't talk or think anything logical, but we can. Logically thinking that Jesus is our Creator, a reference in the Bible, Genesis 1:26, says, 'Then God said, "Let us make man in Our own image, in our own likeness, so that he may rule of the fish in the sea and the birds in the sky, over the livestock and the wild animals, and over all the creatures that move along the ground."' This shows that we weren't descendants of apes, but replicas of God Himself. Also, this is proved by our situation.
Think about it, our home planet, Earth, was placed at a perfect distance from the sun so that our climate would suit us. And out of all the planets that are known to humanity, none but ours contain life. There are uncountable planets in the universe, and ours is the only one that has the special requirements for our survival. Theoretically speaking, if Jesus is our Creator, He has shown us that not only has he provided scientific evidence of His existence, but also shown that He cares about us humans, His most valued creations.
We can think, we can build, we can perform many things that animals cannot do. This shows that we couldn't have just happened by chance, but have been created. And there could've been only one being so powerful that humans couldn't even imagine what it would be like... Jesus, who created humans and our own home just for us, with so many things waiting to be discovered by us humans.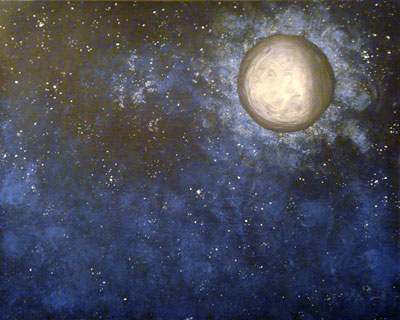 © Allison H., Vancouver, WA