A Little Girl's Dangerous Dream
February 14, 2010
You and I are at an age where we can tell right from wrong, good from bad, classy from trashy. We are at an age when we know to love the things we have. But even we, more than once, have compared ourselves to a certain celebrity, wanting to be as thin/rich/attractive/talented as him or her. And the celebrities we look to for our daily dose of envy are, nine times out of ten, the wrong people to be comparing ourselves to.
You know who I'm talking about - the Paris Hiltons of this world. Lindsay Lohan, Nicole Richie, Britney Spears, Pamela Anderson. They're all gorgeous, rich, skinny... what's not to be jealous of?
For one thing, they have a tragic social status - Exhibit a: Britney Spears', and Paris Hilton's knicker-less jaunt. Exhibit b: Kate Moss's cocaine photos. And Exhibit c: raunchy celebrity sex tapes.
They are also stick thin - on the outside that might look mighty desirable, but they are way too skinny. They have personal trainers with them 24/7, and stick to a very strict diet - imagine not being able to eat chocolate! The girls we usually look up to are thin in the extreme. Un-Photoshopped photos of them reveal sunken cheeks, jutting elbows and visible ribs. These are not the sorts of things you find attractive, are they?
The songs they sing are catchy, but dirty - If You Seek Amy? Try singing that, and listen to what it really sounds like. Not the sort of thing you'd want to be caught singing in front of your parents.
The short and short of this is that these girls are not role models.
But the people really at risk are the younger age group - toddler to about ten years old. They are too young to understand what's right and what's not when it comes to role models - and is it any surprise? They're surrounded by dolls in promiscuous clothing and with perfect curves and big breasts. Bratz, Barbies: they're all targeted at that age group, but think about what these girls are learning from dressing that doll up in that skimpy bikini, and that one in that miniskirt and belly-button-showing singlet.
Even Dora the Explorer - y'know, that cute little chubby girl with skew-whiff hair and casual clothes, not afraid to get her hands dirty, always having fun and making the most of everything? Hands up if you've seen the 'new and improved' Dora. Skinny, tan, long flowing perfectly brushed hair... to be honest, this is pathetic. The one cartoon promoting how little girls should be (fun; happy; not worried about hair, clothes and makeup; slightly mischievous), has now been made into a Bratz doll lookalike 'to keep up with the changing times'. Changing times is not going to make little girls looking like teenagers okay.
Also, when these girls watch MTV, or some other music show, what do they see? Eighty percent of girls on these shows are dancing suggestively in bikinis, draping themselves on men, all perfectly toned and attractive.
I tell you what. These girls are going to have a pretty twisted view of what they're supposed to act and look like.
I guess my point here is that we are the ones in control over what our little brothers, sisters, cousins, friends, whatever, are seeing and learning. We need to set a realistic example and teach them to be little kids instead of little adults.
We are also in charge of ourselves. We are all beautiful, no matter how cliche that sounds. It's time we really remembered and realised that. It's fine to wish you looked like your favourite celebrity once in a while, but remember to set realistic goals as well.
There are actually some beautiful celebrities out there promoting a positive attitude and a realistic body image. These celebrities include Jordin Sparks, Kelly Clarkson, Beyonce, Hayley Williams, Jessica Mauboy and Pink. These girls are awesome role models for girls - they're confident, curvy and have killer personalities.
To sum it all up, believe in yourself, love yourself and make sure the little kids you know stay like little kids for as long as possible. It's the way it should be.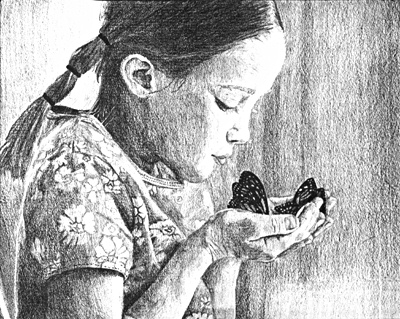 © Alina L., Holland Patent, NY