Are E-books Taking Over the Printed World?
May 5, 2010
Are e-books taking over the printed world? The obvious answer is yes. The moment that the Amazon kindle came out, it was a known fact that something was changing. As time went on and the Nook and iPad were created, the effects started to become present.
These devices are obviously very impressive and useful. The thought that in minutes you can search a book store, buy a book, and start reading, all in your very own hands, is very intriguing. Studies show that devices such as the Kindle have made book sales drastically increase. People buy a much larger amount of books now that they can do it without going to a book store. Books are much less expensive to buy on an e-book device as opposed to a book store. The cost of papers and cover is eliminated. Also, an e-book device allows one to carry hundreds of books with them at a time- with the weight of just one. The many privileges that an e-book possesses are extremely appealing to consumers of present day.
Students in Universities around the world have already started buying their textbooks on e-book readers. A study that took place in the United Kingdom stated that most students in UK colleges use e-books now, as opposed to textbooks. If they need a book right then and there, they can get it. They don't have to walk to a library or book store in order to get a book. Next, e-books are a fraction of the cost of textbooks. Students usually spend a very large amount of money on textbooks every year. However, by buying an e-book as opposed to an actual textbook, they can save thousands of dollars per year.
According to the CBS News, the amount of physical books sold in 2009 has gone down more than 5% from the amount sold in 2008. In 2010, that number is expected to drop another 2%. Meanwhile, it is predicted that by 2012, the sale of e-books will become a multi-billion dollar business. So, are e-books taking over the printed world? Definitely.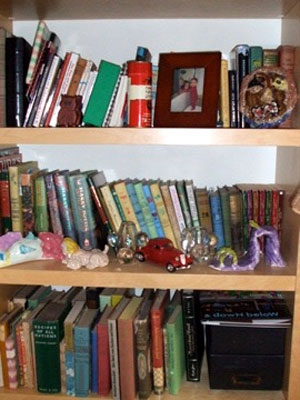 © Nina M., San Francisco, CA