Freedom to Sag
MAG
When I was around seven years old, I began to realize that I lived in a bad neighborhood and that I was not like my friends. The main differences between us were the brands of clothes we wore and how we wore them. My friends wore FuBu, Jordans, Tommy Hilfiger, and Starter jackets while my clothes were from Wal-Mart. Also, while their clothes were loose and baggy, mine were tight and confining.

Now while I couldn't buy the brands my peers wore, I could wear my clothes the way they did. So, with my courage up, I walked around with sagging Levis and the laces out of my Mickey Mouse light-up sneakers. I thought, So far so good, as I walked down the sidewalk exclaiming "West side" - my geography and hip-hop knowledge not quite in consensus.

Then, to make this awkward moment worse, my 70-year-old godmother appeared and lectured me in the perils of being a "gangster, gang-banger, thug and/or hoodlum." I was then spanked (beaten, actually) and told never to embarrass her by sagging again, which was probably good because tight sagging Levis are not a good look.

Since then I've found my place in hip-hop, identifying more with conscience or "backpack" rap than gangster rap, and I no longer try to sag although I do buy my pants baggy simply because tight Levis aren't a good look either.

So when a neighboring town passed a "no sag" ordinance, I did not agree with it, but I also did not immediately feel directly affected either. I remembered my godmother's reaction to my sagging and understood the ordinance as old folks responding adversely to youth. It made me think of the angry mob that chased Johnny in "Rebel Without a Cause." They were on a witch hunt against all things non-traditional. But then I thought about it from a Constitutional point of view. This ordinance would give the police free rein to search whomever they choose, with no probable cause; after all, it's up to the officer to decide what is sagging. Also this extreme form of censorship must be in violation of our First Amendment rights.

Case in point, it's completely legal for the Ku Klux Klan to gather and march down the main street of any American city. Often the police escort them in order to protect their First Amendment rights. Now let me ask you a question: In what bizarre world is sagging more offensive than the Klan?

I live in a part of the country where the rebel flag is sometimes displayed proudly on government buildings, pickup trucks, and T-shirts, all of which is offensive, but it seems that my complaints have fallen on deaf ears.

Maybe I'm simply overreacting. After all, our nation wouldn't be the first to institute a dress code or sweeping restrictions based on the opinions or pet peeves of the few. Nazi Germany, Fascist Italy, Communist Cuba, Red China, Soviet Russia, and modern-day Iraq have all had similar laws. Also, it's not like there's a single problem in America bigger than sagging pants because we've achieved world peace, won the war on drugs, ended government corruption, solved poverty, created a fair and infallible judicial system, and mended race relations forever.

Maybe I'm wrong. Maybe sagging is a pressing issue on everyone's mind, maybe this ordinance isn't racially motivated, and maybe I really do look like every robbery suspect since '97. In closing, censorship is great, and that is all I am allowed to say.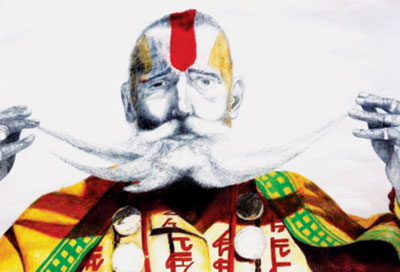 © Anonymous