Political Poetry
MAG
I can't write a political poem
Because it blinds the audience's idea of me
They could think she's a revolution with green hair
Invoking sound pollution to further retribution
But that would mean poems are petitions, picket signs,
stones, lemons, and ribbons.
Uncocking the gun of a pig shooting a man for
drawing a wallet
A fiery soul scratching from the pits of fury and anguish
to escape Hades' stare and reaching up to Zeus
Poetry won't eradicate AIDS
Poetry won't teach first aid
Poetry won't defend brigades
Poetry is words wrapped around tongues spat out from
lips with saliva on everyone
Words that express ideas with lyrical excess
And impress others with rhyme schemes
and copious vocabulary
I won't write a political poem
Political poems are incinerating letter waterfalls
from onlookers
The words become screams and fade in the nihility
of the room
Not a spoon down the throat of the government to vomit
out the lies we think we already know
Or a job to the homeless not remembering
what went wrong
Or a Gatorade supply to the spreading cholera epidemics.
The news a collage of tears, blood and lies
MySpace causes a suicide
Racism is showing pride
Iraqi children ready to die for Allah
Though I seem to remember the Koran promoting peace
But that's just me
We need assassin poems, moving poems that slap,
arouse and glow
With a gun and a shriek and for a little sex appeal let's
add stilettos and a black dress
Because we complain another person dies
I hate to write political poems
Because it won't save a person's life.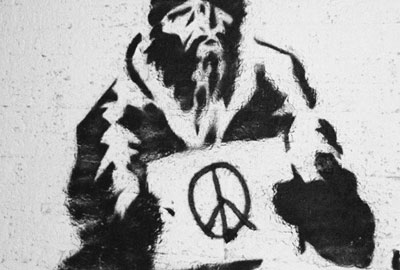 © Anonymous