Head in the Clouds
MAG
August 31, 2010
I gaze lazily out from my back deck, the heat lulling me to sleep. I'm not sure if the moisture is from my swim in the neighborhood pool or sweat from the humid Atlanta heat. The sun is overhead, and I quickly scan the backyard for shade. It's no use. The trees are either wilting in the heat or are too low to the ground.

A grumbling sound above my head distracts me from the scorching sun. It isn't unusual – I know it is an ­airplane before its low-flying screech reaches my ears. Living in the suburbs means being close to a busy airport. Nevertheless, the implausibility of flight never ceases to amaze me.

My head snaps upward, lips slightly parted in awe as I search for the source of the thunderous noise. Then my eyes land on it – that big hunk of metal defying gravity. How can it soar that high in the sky? If I knew its secret, could I mimic it and fly too?

I don't care where they're headed. Planes land in places; places are boring and ordinary, always leaving my childish imagination unsatisfied. But if we can fly through the air, defy gravity, what can't we do?

Nine years later, the cool New England air is circulating through my lungs. It's a summer night, and I find myself again scanning the sky, thinking about those hot Atlanta days. I focus on a bright star, only to see it flicker and migrate. It's another plane.

I've lost that awe of flight, but something about airplanes still sends my thoughts soaring. I suppose places continue not to interest me; I find myself thinking about the people aboard the plane rather than the destination.

Is it an anxious college student on her way to Ireland? Maybe it's her first time leaving home. She's only been on the plane for a few hours, but is already feeling homesick. But she'll swallow it with the courage she's known for in order to accomplish her high-reaching dreams.

A widower could be on that plane too. He's old now, but his love is still fresh, as if the honeymoon was just yesterday. He's traveling down memory lane for one of the last times, flying back to where they married. He'll snake his way across the world, following his travels with his wife, trying to convince himself that the accident that stole her life wasn't his fault, that he couldn't have stopped fate.

A family could be sitting behind him, fleeing an oppressive nation. The father's uneasy breathing is proof of his fear of flying, but he is taking his family onto the airplane in hopes of a better life.

I shake my head gently, bringing myself back to reality. The soft murmurs of friends and family reach my ears again, and I feel the heat of the fire as it pops and cracks. The plane is gone now.

I hope some day I'll tell the tales of the college girl's brave-hearted ambitions, the widower's guilt, and the father's victory over his aviophobia. I know some day I'll have my own story of struggles and triumphs to share – but for now, I'll keep my head in the clouds.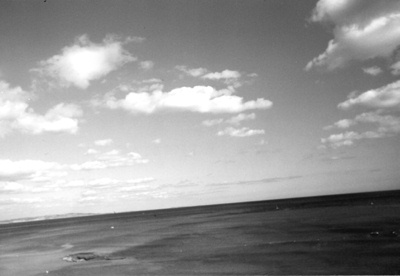 © Nikki C., Phoenix, AZ