The City of Lights
MAG
May 1, 2008
It was magical, unforgettable, and completely exhilarating. I struggled to keep up with Octave and Jacques as they sprinted through the streets, speaking quickly to each other in French and laughing, calling to me to keep up. That was easier said than done; I could barely move because of the people running and dancing in front of me, and my pace was further slowed because I was mesmerized by every sight.

It was late June, my fourth night in Paris and the first I hadn't spent in tears. Living with a family I didn't know, no matter how nice they were, was unbelievably intimidating for me. My confusion and anxiety were only made worse by my inability to understand them. When anyone asked me a question, I could only stammer and blush. I felt alone and uncomfortable, and wished I was back in California with people I knew.

Octave, the second oldest boy in my French family, had stayed with my family as a foreign exchange student. He was 18, and during his stay he had become my brother in every way. He teased me, laughed at me, and occasionally was nice to me, but only when he felt like it. Now I was spending the summer with his family in Paris, and I was terrified. I was going into ninth grade and was on my own in a foreign country. To make matters worse, my French was terrible and every time I spoke Octave mocked me.

The first few days I was there, Octave was never home. Although he checked on me occasionally, he was understandably excited to be home and was basically off with his friends. His absence forced me to befriend his siblings, though most of them were teenagers and gone all the time too.

My first friend was Octave's youngest brother, Emile. Eight years old, adorable and affectionate, Emile loved me because I was the only one who would play video games with him. He would fling open the door to my room and say in a very French accent, "Halo?" Then he would grab my hand and drag me downstairs to play the video game that I mastered over the course of the summer. Because he was a kid, his French was simple and easier for me to understand than most adults'. I learned how to talk to him. Amused that I had only managed to befriend an eight-year-old, Octave and his friend Jacques would play "Halo" with Emile and me occasionally – before bolting out the door, covered in cologne, to meet up with friends.

During those first days, I willed myself not to cry almost every second. I e-mailed my parents and sister constantly and talked to my friends online. I still hadn't adjusted to the time change. I would wake up at 5 a.m. after falling asleep at two, which contributed greatly to my emotional frailty.

When Emile went to school, Octave's mother would show me around Paris. She was very sweet and took me to see Notre Dame, the Eiffel Tower, Luxembourg Gardens, and many other spectacular sights. I walked around the stunning city in awe at its exquisiteness, but still, I felt detached. I felt like a visitor observing someone else's home, a tourist seeing things she had heard about but that were not hers. It did not escape my attention that Paris was the most beautiful city I had ever seen, but that did not make me feel any more welcome. I felt alone, lost, and misplaced. I wanted nothing more than to be in the 100 degree, smoggy haze of Los Angeles.

Finally, on my fourth night in Paris, I was reading in my room when Octave and Jacques burst in. They informed me that I was going out with them and I wasn't allowed to say no. I got dressed quickly, and we ran out the door, catching the Metro just in time. Octave wouldn't tell me where we were going, but I knew it was the night of the Fête de la Musique, whatever that meant. When the Metro door opened, we jumped out, leaping up the stairs until we burst onto the boulevard and into an explosion of noise.

Music was echoing from every street corner of Paris, bouncing off the Eiffel Tower and Notre Dame, floating through the Arc de Triomphe. Shrieking, laughing groups of teenagers mingled among the crowd. The harmony of guitars and violins streamed through the cool night, and every building was lit brightly, emitting scents of gourmet food and cigarette smoke. Policemen, desperately trying to control the hordes, attempted to let cars through but failed due to the number of people dancing in the streets.

On every section of the sidewalk, at least one person was playing an instrument. Rock and classical music mixed in a medley of sounds. I stood transfixed. Up until that moment, I had always wondered why Paris was called the City of Lights. Now I knew. Strings of lights adorned the trees along the Champs-Élysées, brightly guiding pedestrians, and the Eiffel Tower glowed in the distance. Paris was also sud­denly the City of Life, for no one could set foot here on this night and not feel incredibly alive.

All my fears suddenly vanished. Paris was no longer a frightening place, and I certainly was no longer a tourist. Paris was the most wonderful city in the world, and most importantly, it was my city. I felt connected to everyone. That night I had no trouble falling asleep. I fell into bed, peaceful and happy.

After that, Octave took me with him wherever he went, and I discovered Paris with a completely new perspective. I was a Parisienne, living life from that point of view. From that night on, I never cried and didn't contact my parents more than necessary. I smiled every time I went out in Paris at night because I was no longer alone.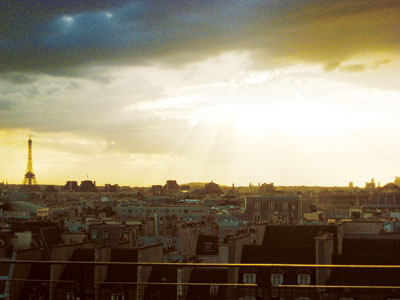 © Anonymous