Conversations with a Swimmer
August 28, 2015
Awkward Conversations With an Experienced Swimmer:
Non-Swimmer (AKA math teacher): WHAT is THAT on your ARM?! I KNOW your not CHEATING!
Swimmer: it's my events from the swim meet last night.
Non-swimmer: why is it on your arm?! In SHARPIE?!
Swimmer: Everything else washes off
Non-swimmer: well surely not everything washes off. What doesn't?
Swimmer: Sharpie.
Or
Non-swimmer (a girl): so you see really buff guys in tiny speedos every day?
Swimmer (a girl): Ummmm…………. Yes?
Or
Non-swimmer: why does it smell like chlorine in here?
Swimmer: tries to inconspicuously sniff themselves.
Or
Non-swimmer: can you beat Michael Phelps?
Nice Swimmer: No! I wasn't on the last Olympics, was I?
Sarcastic Swimmer: Yes of course I can. And I win every day, no sweat. Did you not see me win a gold in the last Olympics?
Or
Excited Swimmer: I dropped 3 seconds in my 100 fly last night!
Clueless non-swimmer: umm… Good job? That is good, right?
Or
Non-swimmer: Oh you're an athlete to! What do you play?
Swimmer: swim?
Or
Swimmer mom: (in the car after swim practice) so honey, how was your day?
Swimmer: I'm hungry….
Swimmer mom: how'd your test go?
Swimmer: Food…..
Swimmer mom: was practice good?
Swimmer: FOOD!
Or
Clueless non-swimmer who doesn't-know-what's-good-for-them: Swimming does not count as a sport. It's so easy!
Nice swimmer: Come to my practice, watch the swimmers and count how many of them have abs. I can tell you now, 99.9% of them do.
Practical Swimmer: who is the most decorated Olympian off all time? What sport does he do again?
Mean swimmer: I dare you to come to my practice tonight. Bring your suit, cap, and some goggles. And maybe an extra set of limbs.
Or (This is the worst, because someone actually said this. And not in a joking way, they were serious!)
Clueless non-swimmer who doesn't have any common sense: I can beat Michael Phelps. I am so good at soccer; I could beat the old man any day, any time.
Practical swimmer: You'd have to have about 10 years of training first.
Any other swimmer: (*laughs very loudly for a very long time*) oh, I would LOVE to see you try!
Nice Swimmer: Ha-ha, I never knew how funny you were.
Mean swimmer: umm… No, you're NOT. I doubt you could beat the 6-year olds on my team! (Swimmers watching and listening cringe at that sentence.)
(*I am not going to tell you how I responded, just that it was a combination of all those*)
However, all swimmers rely on people who are non-swimmers, and a lot of non-swimmers have a great respect for swimming. So thank, you, "clueless" non-swimmers! ?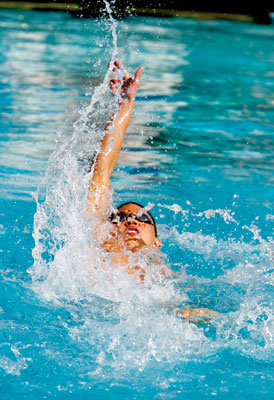 © Wenting C., Fremont, CA