Who I'm Not
October 14, 2016
I am not dark-skinned nor want to be considered such terminology. The term "dark-skinned people" makes a community seek refuge until the "coast is clear" or "it's safe to come out now." Mainly, different shades racial bias's as the scale of dark complexion begins to dwindle. I don't want to be referred to as a "dark-skinned" human being if it brings screams the devil's name to the audience and foreshadows misfortune towards those who get near. Not falling into the social stigma of death, violence and regrets is someone who I don't want to be or become identified as. It can be said that a dark-skinned man is seen unique but it cannot indicate that he wants to belong in such remark. Born and raised from birth as a Latino but not to be identified as a dark-skinned person is who I'd come to be.

Hiding an impactful yet controversial connotation throughout history itself is a word most readers will understand. Others will feel in true denial but it's more of what message lies in the term that troubles me. It's an old phrase that has a totally new identity and has minimal cross reference with its more official variance. At a young age children were taught to position any form of euphemism whether slang or mispronunciation with anything involving disturbance. Meaning, most of what dark-skinned people considered "lit" makes clear of what message is being conveyed. It goes as far as the way they go along their daily commutes. One day, there was a young boy riding his scooter and we nearly startled each other when we were both turning around the street corner. So, his older sibling quickly moved him away yet she had this innocent yet frightened look on her face that made me wonder. I told myself, "I think she thought I was going to do something to her younger brother… is it the way I look or is it just me?" Instantly, she made eye contact with me while having this threatening look on her face. To her I resembled that of a dark-skinned person which sickened me. "How do I make of this… how does she perceive me."

Two syllables separated by a hyphen create an undeniably misguided word that has alternating meaning when used. Assumptions like this being made constantly but there's no denial that it's becoming an unstoppable force. Targeting those who refuse such name calling and isolate themselves from its existence. Ideas like the dark-skinned scenario illustrates complete incompetence when it's used incorrectly. A misconception that carries on as a devil-may-care bee but stings when referring to people this way. Latinos who don't consider themselves dark-skinned would prefer no mentioning of that phrase. Once again, call me Latino and that's it. We are afraid being mislabeled, misjudged, and misidentified. Improvements comes from a person's perspective towards that subject. For instance, a subject realizing that their victim or the person they called dark-skinned realizes that they think of themselves differently. Sure, they may look like the real picture but in reality they're Latino.

Not all dark-skinned individuals are Latinos and vice versa. I am one of those children who were taught at a very young age to become more aware of those who have a darker appearance than myself. Overall, it's oddly satisfying to be known as another label. A label that I have come to be and have developed with it just as it would do with me. Spanish resembles the words that describe who I am but if it's going to become hidden by a previous comment then it has something going against it.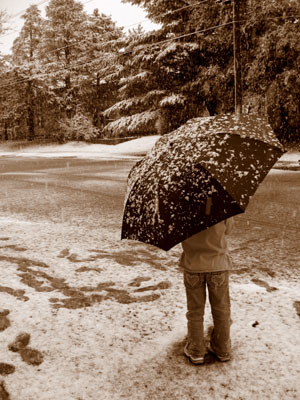 © Hui Y., Potsdam, NY