A Hike to Bomber Glacier
January 3, 2015
On Friday, August 15th my older sister Maria, my younger sister Bee, and our Australian shepherd, Maggie, hiked out to Bomber Glacier which sits in the Talkeetna Mountains in Alaska. The trailhead is in Hatcher Pass, which is a two-hour car ride from where I live in Anchorage. The hike, which is 11.4 miles round trip, starts at the Reed Lakes trailhead, a trail to Upper and Lower Reed Lake. Hiking to Bomber Glacier is a two-mile add-on that starts at the end of the Reed Lakes trail. Bomber Glacier is named for the B-29 Bomber which crashed there in 1957, and still remains today for people to visit.
August in Alaska being notorious for frequent rain, and this day being cloudy, it wasn't surprising that at the start of our hike we felt a light drizzle. Luckily, the light rain never became a full-on shower, but we wore our rain jackets until it subsided anyway. At the two mile mark of the trail, we explored the ruins of Snowbird Mine, an abandoned gold mine from the 1900s.  A right turn off of the trail led us to some old rusty kitchen equipment sitting in the grass. We also found what looked to be an entrance to the mine along with lots of other mining debris. Hatcher Pass is scattered with gold mines like these, and they are quite fun to poke around in.
After returning from our stop, the trail shifted from flat to uphill as we followed switchbacks which led us into the Talkeetna Mountains. Because of the rain, the ground was muddy and slick, which caused a few falls. Eventually, the mud ended when the trail continued along a creek surrounded by huge rocks. This required a little bit of boulder-hopping and a lot of strategic foot placement. We found that Maggie fared pretty well in this terrain and we only had to help her about three times. At the end of the boulder field, where the trail became dirt again, we stopped by a small, crystal-clear pool fed by the creek. Despite the slightly-cold temperature of the air and the frigid glacier water of the pool, we all expressed to each other that we wished we could jump in. Due to our lack of extra clothes, we decided to just eat snacks while Maggie (unsuccessfully) chased an Arctic ground squirrel hiding in the nearby rocks. These are not uncommon to see on hikes in Alaska, but you usually only see a ball of fur darting from underneath one rock to another. Surprisingly, after our snack, Maria spotted one sitting in the boulders above us, about 300 yards away. Maria described his behavior as "just chilling," which was quite true because he didn't scurry off when I moved closer to take a picture.
Hiking for roughly a mile after the pool, we reached Lower Reed Lake, a stunning, bright blue glacial lake. The trail then continued past the lake to two impressive waterfalls, which help connect Upper Reed Lake to Lower Reed Lake. Never missing a photo-op, we took some pictures in front of the bigger waterfall, then followed the trail for another half-mile to Upper Reed Lake, which looks similar to its lower-elevation counterpart, but is almost surrounded by mountains.
From Upper Reed Lake we took another trail to Bomber Glacier. The trail was steep and rocky, so we had to rock climb some of it. It led to a ridge between two peaks, and from the top we could see the glacier on the other side. To get to the bomber, we had to hike downhill on the glacier, so we put on our YakTrax, which are crampons, to give us traction on the ice. After a little bit of cautious walking, we reached our destination. The pure white glacier littered with metal, plastic, and glass was truly an amazing sight; you have to see it to believe it. It looked as though the bomber crashed five months ago, instead of five decades ago, because it was so untouched. Every piece of the plane, although some were detached and destroyed, could be found on the glacier, including the cockpit and propeller. After we explored the crash site, the sun poked through the clouds a little bit as we sat and ate lunch on the glacier.
The four-hour hike back to our car was tiring to say the least, and we all definitely had a little bit of "jello leg," a common symptom of downhill hiking. Seeing many tents set up by campers on the way back, we noted that this hike probably should have been split into two days, considering the long distance and 3,113 foot. elevation gain. Nevertheless, we made it to the car around 6 P.M., and arrived back in Anchorage two hours later, all of us hungry for food that wasn't a granola bar or trail mix. So, we stopped for a bite at a family-favorite: Lucky Wishbone, a restaurant which has been serving up pan-fried chicken longer than Alaska has been a state.
Thus far, my summer has mostly consisted of days like this: waking up, finding an adventure, and then executing it with my family and friends. So, as the days of summer start dwindling down, I've been trying to cram in as many outdoor adventures as I can, as well as prepare for returning back to school. For now, I'm headed off for a trail run along McHugh Ridge, which will surely include a little bit of wild blueberry picking.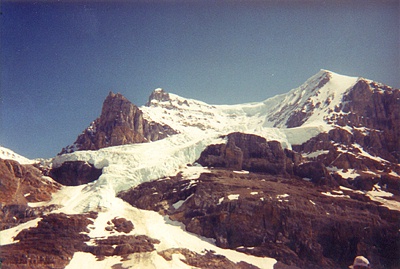 © Julie B., New City, NY