Leaving Home
June 18, 2014
"What does home feel like?" she asked into the dark room. Frankly, she wasn't sure anymore.

She had known at one time, but those days were long past. Memories still burned in her mind, though. There were details so exquisite that even time could not erase them completely. She could remember the cool summer breeze dance across her skin, bringing slight reprieve from the miserable heat and labor of the day. Cream colored walls enclosed her dwelling place, allowing her mind to dream and create. She'd even painted the walls a beautiful shade of lavender, once. Large bay windows cast streams of sunlight into the small back bedroom, kissing the surface of her few possessions. It even reached far enough to shine on the simplistic guitar that sat in the corner, although it seemed that she never found the time to make sweet music with her hands.

Growing up, her parents had always joked about moving away from this place. She merely disregarded their teasing, knowing how impossible it would be. Her father had the perfect job, and that could never change. She had been raised in this house and couldn't possibly bear to leave it until after she graduated high school. The circumstances were so completely blissful in this dream-like utopia that it simply couldn't be corrupted.

In March, her mother collected boxes from the local grocery store in an attempt to better organize the house on her spring cleaning rampage. Nothing was wrong with that, was there? Slowly, boxes were placed in her room, too. She agreed with her mother that it was time to stow away some of her things. After all, college was only four years away. Then a house was purchased in a neighboring state, simply as a "summer home" for when they would be traveling. Which, in all reality, would certainly be convenient when it came to minimizing those horribly long drives in the car.

Then, all at once, it was time to leave. She had just a few weeks to clear that home of everything she had done, to dismember the pieces of her life there. Painful goodbye after painful goodbye was given, with heavy tears and sorrow following close behind. She was ripped from her friends, her school, her future dreams. Everything she had worked so hard to achieve was gone in the blink of an eye. And with each farewell, the daunting feeling of starting all over in a new place with new people haunted her.

Her room was slowly taken to the new house, piece by piece. Her bed, followed by her dresser and clothes. All the decorations and pictures were wrapped in blankets and packed into the back of the car. Soon, all that remained was a twin mattress on the floor to sleep on and a small pile of clothes in the corner. The walls, no longer that brilliant purple, were white and empty, devoid of life.

August 21st arrived all too quickly. The sound of rain on the roof drowned out her choked sobs and tears. She loved the rain, and today she was comforted that at least the skies were feeling as dismal as she was. Her father called, giving her only five minutes. Only three hundred precious seconds to conclude the first fourteen years of her life. Her mind raced, cataloging the contours of her bedroom and the layout of the empty house. Her footsteps echoed down the stairs and into the open kitchen, her mind automatically memorizing how the third step from the bottom creaked. She grasped the doorknob, took a deep breath, and twisted it to the right.

And then she left the home that had built her life, never to feel the same way again.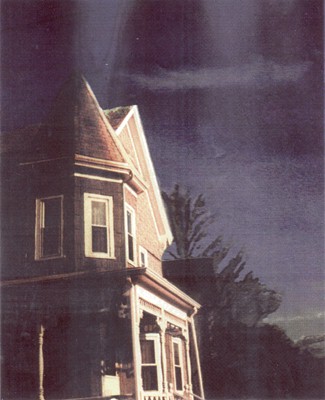 © Elyse G., Wilmington, MA