The Road Less Traveled
February 25, 2014
In one of his more prominently known poems, Robert Frost composed these words: ¨I took the one less traveled by, And that has made all the difference.¨ Frost describes a yellow wood in which he comes to a place where two roads diverge. He wanted to travel both roads that he encountered, but knew that such an endeavor wasn't possible. In the morning light, Frost examines each road, finding one path covered in undergrowth and the other full of grass. They were worn about the same, without any footsteps through the leaves, and yet he chose the road less traveled. I believe that this poem illustrates that new beginnings can bring many sweet and rewarding experiences, that the past can be treasured, and that challenges bring opportunities for learning and growth.

The morning Frost speaks of can refer to a new dawn, or a new day. I experienced this myself when I moved from a rough town in Nevada to my mother's Utah hometown. Everything I had ever known growing up was changing at the time. I had to tell my best friends goodbye, unsure if I would see them for the next year. We never went without seeing each other for more than a few hours, let alone a few months. I left behind the sweet smell of sagebrush after it rains. I left behind miles and miles of country roads and green fields. I left the hustle and bustle of a typical Nevada gambling town, complete with casinos and old trains. I said farewell to the dance studio that became my second home and the dance teacher who became my second mom. The pain of these goodbyes still brings tears to my eyes, even after a few years have passed. These experiences have become my own personal undergrowth, and yet most days these memories help me to hold my head a little bit higher. In addition, I have been able to receive many new opportunities in Utah that I otherwise wouldn't have been able to experience, such as opportunities to participate in interscholastic sports. This hadn't been an option in Nevada because my family lived an hour outside of town. Living in Utah has helped me to see that life can be much different than I had previously envisioned: filled with difficulty, yet full of opportunity.

It can also be noted that Frost kept the first road for another day, knowing that he probably wouldn't return. While there are instances where that phrase is true, I have found many ways to return to the old roads of my life. I took time last summer to drive to my hometown and visit the people and places of my past. It felt so good to return to the ice cream shop on the corner, walk on the grass in front of my old school, and spin on the carousel at the park. I hugged my friends and enemies alike, simply because I missed them both. I drove slower down the side streets just so I could remember the buildings and houses that I had memorized so long ago. I even cherished the awful country radio that refused to play songs from this century; those songs had kept me occupied as a child for hours on end. Although it is important to move on in life and to cease living in the past, we must continually remember where we came from. Such knowledge gives us a sense of identity and belonging, no matter where time will take us. We remember why we are in our current situation and what our dreams have been, inspiring us to progress towards the future.

This idea of a less traveled road represents the fact that the best way is not always the popular way. In fact, most of the time it is the exact opposite. Personally, I do my best to maintain high standards of learning and conduct in my everyday activities, yet I am always faced with conflicting forces. Clouds of foul language, crude criticism, and immoral acts surround my decisions and attempt to pull me in a direction that will cause change. Forms of this change could alter the course of my day, but it could also alter the course of my life. Most of the time, it would be so easy to take the path of least resistance. As a crazy teenager, there is a sense of rebellion in bending the rules sometimes. It is so easy to slip into procrastination and out of focus. Instead, I am concentrating on taking advanced classes and maintaining friends who will help me keep my standards. I take the more challenging path because I know that it will stretch me in ways that I cannot grow otherwise. In my life thus far, this pattern of behavior has made all the difference.

I stand at a crossroads myself as I prepare for what my future holds. Choices such as college, marriage, family, and occupation loom before me, just out of reach. I want to know exactly what I need to do and when to do it, but only I can decide that for myself. Which scholarship should I take? Which job will I enjoy most? Is he really the one for me? Such questions can drive me insane if I think of the possibilities. I change my mind on my college major so frequently that most of the time I can't even keep up. I am doing my best to get ready for my future by discovering the rewards of work, applying concepts of perseverance, and learning valuable homemaking skills. In time, I pray that these character traits that I am developing as a result will serve me well as I progress into adulthood.

As a rather confused and rather average seventeen year old, I am preparing myself for the time when these questions will demand a final answer. Hopefully, I will have enough knowledge about the person I am and the person I want to become. That knowledge of my past, present, and future self will hopefully be enough to carry me through this diverging of roads. I know that at times I will undoubtedly make poor choices and that pain and struggle will result, but I have hope that those experiences will make me stronger. I hope that it will make the difference between an endured life and an enjoyed life.
That is why I choose to take the road less traveled.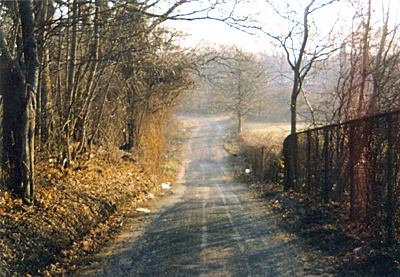 © Cameron C., Milford, CT