These were not my words
July 20, 2013
I am striving to put in writing the most stirring thoughts of my years. Good writers can picture and then imprint that picture through writing. We have our own artillery of words, the essence and rhythm in our lives but out of the blue everything founders.


The mysterious perversion of your thoughts...... occurs. You want to write something but your fingers could not comply. A brash act of defiance against the words of the writer.


As I write on, all of a sudden, I feel and realize that I am going off topic. These were not my true feelings. Impetuses of these unknown words were as if never to stop. The surrealism that enclosed me, wanted to articulate the subconscious mind. Although some remnant of my swirling thoughts still danced on the periphery. I had finished. This was not what I sought after. These were not my words.


I was repined against it. I gave a rueful smile. I had to accept it. The fiction was good.


I was disoriented by the betrayal. There was a sense of guilt. A simple mistake bespoke of greater intimacy, one borne of a relentless pain. I wanted to cry, only I laughed. I wanted to write like a writer, but I can't, because the words won't allow me.


The sensation was not of a kind written in words. A void feeling, a wheel of blackness somewhere smashing my chest. This was not my writing. A soul crushing hushed acceptance made it worse. Goddamn words.


I emailed it to the editor.
One week later, I received an email. It had been chosen for the magazine. Wow! Wow???


When does a writer become obsolete to himself? This is when he knows he lacks the proficiency and buoyancy and fails to unearth himself within his writing.


One week later, the article was so alien. Were those my words???


Those were not............................!!!!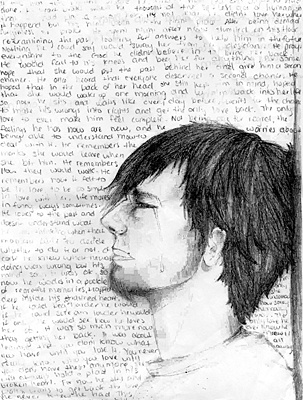 © Annie M., Columbiana, OH