The Blind Side
May 20, 2013
In retrospect, it was obvious and it was evident.
At first, it was the simple things, the little things. It was the casual way he asked me to sit up the back, then would say we weren't able to see this far up and could we move closer to the board? It was the sickly-sweet way he told me I couldn't see my friends after school, literally and metaphorically, and it was in the way I shamelessly flirted with him, taunting him with strains and pains. It was in the ever-so-thoughtful way he asked, are you alright, and in the way I recklessly responded, sure, why wouldn't I be? After all, why shouldn't I be…and yet, why couldn't I be?
By day I breathed sparingly and cautiously around him, as if I could fool him into thinking I wasn't there at all, the reflection in the mirror that I could no longer see. By day, I was somewhat invincible, rimming my milky eyes with black kohl, perhaps unwillingly shakily, deceptively dodging from the truth that lay within. He wasn't mine, I came to realise. He never was, and yet, once I had begged him to enter, he would not leave me until I was depreciating, diminishing…dying. He greedily scavenged my remains, gorging himself with what petty morsels of my sanity was left. I shuddered in his presence, blinking repeatedly to relieve myself of his murky reality. Seeing him was difficult, but I was thankful for this small piece of consolation. What I didn't see would not hurt me, but maybe it would kill me all the same.
As the pewter grey and deep blue of nighttime ebbed away the hushed pinks, yellowing oranges and pastel purples of dusk, my sleep became a dance. And so, by night I would suddenly awake, gasping for air that was unwelcoming, to say the least, and flail my arms madly, reaching for something just beyond my sight. He would croon in my ear, whispering pearlescent words of soft reassurance, telling me, you're better off this way, lulling me back into a broken, bent sleep. By night, I could not tell, between closed eyes and open. I could not tell if it was quite morning, or still an evening buried beneath the rubble of a building tsunami that seemed to wash what memories and happiness were still stored inside me. I was lost, with no light to guide me, and what was there was hardly any comfort anyway.
Finally, one spring morning, I think I awoke and I knew, right then and there, that I had seen it coming all this time, and yet I had seen nothing at all. Looking into myself now, I could not help but feel a sense of betrayal, and shocked horror for what I had lost. He had not left me, nor had he stayed, he was now a part of me. In my drunken heart, he was there. Upon my back, contracted and crooked from the weight of the world, he was there. Beneath my lashes that could not hold back the tears, he was there.
I was reluctant to say goodbye, and he won't leave me at hello. Each day is another uphill battle, and each day I greet him, faking hope and painting a smile. Now doomed forever to live a meaningless life, with only my callused hands to remind me of who I once was, and what I have become.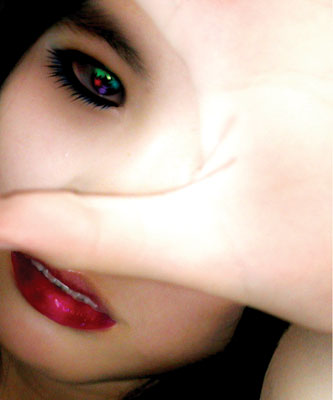 © Victoria W., Arcadia, CA