Growing Up
February 24, 2013
They say you spend your entire life growing up. The point behind that had always eluded me. So you grow and grow until you die. Why not just stay small? The thing is, you can't stay small. You are always growing a little, changing and shaping everyday, like a work of art that will never truly be completed. Then one day you notice it. You realize how much you've grown and it seems like you did all that growing in a second. I had a day like that today.

I got my period today. For the first time. Yes, I know, I'm that awkward person who gets their period a month before they turn 15. Don't get me wrong, I'm grateful, but sometimes I would wonder if it would ever come. If I would ever know what it felt like to be like any other girl my age.

It wasn't a big deal. At least not to me. When I texted my mother, she freaked out. She wanted to know if she should come get me. Which was funny, because I was two hours away, at a theatre competition down by the shore. There was no way for her to get there, and no point in her getting there. I could handle it myself.

I bolted from the bathroom to get necessary supplies, and left my phone in the bathroom stall. It took me a little while to realize it was missing. But it wasn't a big deal. I retraced my steps. I finally tracked it down to a lost and found close to the bathroom.

It wasn't until I got home that I really realized who I had become. My friend Grace drove me home. When we pulled up into my driveway I noticed my front door was wide open. My dog, who normally stood right at the door, was nowhere in sight. I ran inside, calling out to my sister, hoping she had gotten home early and forgot to shut the door behind her.

The door didn't worry me too much. It was possible that my parents left it unlocked for me and the wind blew it open. It was my dog's behavior that really got me worried.

My dog loved everyone, she would run up and jump on everyone. Tonight, however, she was different. She herded me away from Grace, whom she had met a few times, the second we got in the house. She wouldn't go anywhere near Grace, and would bark whenever she took a step towards me. The behavior left me sort of uneasy.

After we checked to make sure the TV hadn't been stolen, Grace drove me to my grandparent's house, where my sister was. My grandparents speak very little English, and while I tried to explain the scenario to them, they didn't seem to understand the gravity of it. My grandmother just offered me food, and my grandfather told me not to be afraid. He didn't understand that I wasn't afraid. I was worried about my dog.

That's what made me notice it. The growing up. I wasn't thinking about myself at all. I was willing to go back into that house, as long as my dog was okay. I began to remember other things I had done today. Telling my sister to read instead of watching TV. Cleaning the house. Spreading my focus to someone else.

Maybe, that's what growing up really is. Maybe we're not unfinished. Maybe we've always been finished. Maybe, as we grow, we're just using the personalities we were given to benefit others instead of ourselves.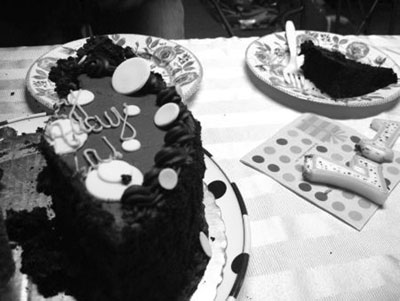 © Carolyn K., White Plains, NY