Mustard and Relish
February 10, 2013
Yes, we call my country house the mustard and relish house. It sits on a cute piece of green land. Trees and all. There is a flower garden and a cute little green shed where we keep things, bows and arrows, water guns, bikes and our car.
It's where me and my sister dirty our feet on the gravely, dusty floor, dragging the barbie car, dolls sticking out from all angles, across our lawn.
The mustard and relish house,holds our tree house. It came from my dads nails and screws and sweat. Planks of wood and strong stable trees. Our cats gravestone is a lump in one of my mothers gardens. Just a lump.
The Mustard and relish house holds my climbing tree. A tree that only me and my strong arms can climb. I strung a rope and there are wind chimes. Its not too high off the ground where I go and is a few feet from the tree house, but when everyone is inside doing whatever, It's where I go.
The Mustard and Relish house holds my barbies. The fun ones. It hold my never-going-to-be-built $300 dollhouse, and purple barbie car.
The mustard and relish house holds my dreams and ideas and thoughts.
Just thoughts.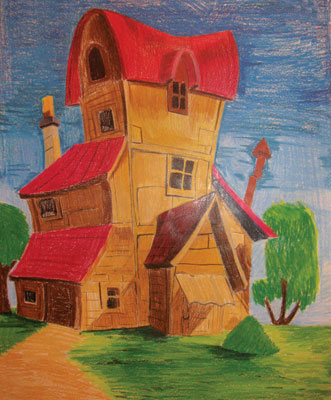 © Ronald W., Sherman Oaks, CA