Stop The Ride, I Want To Get On
August 2, 2012
My theme park addiction has only been going on for a while, but since I went to Disneyland Paris earlier this year, I have been obsessed with the things. This weekend, I was lucky enough to go to Alton Towers with my friends family, and it was brilliant. I had been there a couple of times before and still have vague memories of it now, however I was too young to ride on the thrill rides; to which I was very disappointed about.

After a very early morning get up, we arrived in Alton Towers at 10AM thinking that it would be very busy. We got the tickets (my friends parents had bought them cheap using Tesco vouchers) (TESCO VOUCHERS ARE GREAT!!!) and headed straight to the toilets. After all, we had been in the car for three terribly long and sleepy hours. Once we had figured out the map, we headed over to the Forbidden Valley, and got in the queue to Air. I must say, that the park was surprisingly empty at this time, and we got on Air in under 5 minutes.

Whilst we strapped ourselves in, I was beginning to get slightly nervous to what I had lead myself in to. The ride started and the screams began. You can feel the exhilaration of being weightless and it completely felt as if you were flying. This ride became a personal favourite of mine in a matter of seconds, and it sparked the adrenaline junkie hiding within, and I haven't stopped since; striving to ride as many different roller coasters as I can.

Staffordshire is probably one of the best counties in England for a theme park. Alton Towers is in the depths of the countryside, which makes it so mysterious and magical when you are walking through the gardens that surround the different attractions. It was calm and serene and the tranquillity of the gardens mixing with the screams of the rides made the atmosphere perfect. The rides here were built around the castles of Alton, which makes it a perfect place for families of all ages and it's always great to bring along a good old picnic.

There are around 36 different attractions in Alton Towers, and 11 of them are thrill rides. There is tons of things to keep you busy, and something for every member of the family. Also, wear layers and bring a waterproof. I learnt the hard way! (Plastic covers DON'T work!) The longest we queued for was 30 minutes and that was for Rita; ironically the fastest ride in Alton Towers, which reaches the speed of 60mph in a matter of seconds. It was pretty thrilling and left my hair in a mess.

I'd say that it would be a good idea to bring good trainers or shoes, since walking around a lot leaves you aching and sore. You may also have to take your shoes off on some rides, since they fall off quite easily. I don't know how my friend managed to drag me on ALL of the thrill rides, but each and every one of them I came off and wanted to go on again. The worst part of rides is when you're strapped in and you don't know whether you want to be there or not.

I am hoping to go to Alton Towers next year with my family, or possibly a bigger and better theme park; if there is such thing. Alton Towers is a definite must-see on my list and I'm sure I will visit it many more times in the future.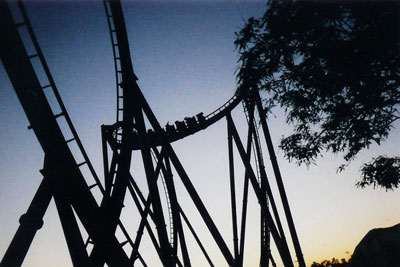 © Aaron S., Shelby, NC