I Hate That You Don't Know!
April 10, 2012
I hate it when I have to look into your sorrowful eyes, because the pain in your eyes is so strong that it emanates and suffocates me, making my eyes burn, revealing tears that I have held back for years, and failing on my part to be that rock that you need.
I hate it when I have to sit next to you and listen to your troubles as you cry your heart out, because I know that I cannot do anything about them, even though I wish I could.
I hate it when I would have to hold your hand through the stormy nights and the cloudy days because when I hold your small hand in mine, it reminds me of what a precious kid you are in a big old scary and mean world.
I hate it when I hear them scream at you because then I wish I was never born due to all the terrible and evil thoughts that run through my head, the things I wish I could do, but that is just because I care too much to walk away.
I hate it that your mom does what she does, says what she says, and doesn't even see the damage done to you because, kid, I believe you deserve the best that the world has to offer.
I hate it when I would hear your complaints about the food that you eat and the fact that you do not like them because I see that you have lost a lot of weight, and it shatters me to the soul. Hell, I do not think that is the only reason why you have lost weight.
I hate it when you brag of how easy school is because I know that you are capable of so much more and that you deserve the best education, but you have not been granted that, instead, you have been granted a school where you learn addition and subtraction in the sixth grade.
I hate it when you ask me if I am happy with the way life is because your impression is that you are not and that is the cold truth, but it hurts me so bad. Therefore, to answer your question, I would say no, I am not happy with the way life is.
I hate it when you tell me that you wish to see your dad again, because the thing is, he is not here and I know that you miss him terribly. You should know that he cared so much about you, but he woke up one morning to find out that you were gone, because your mom was cruel and selfish enough to take that part of you away for she had met another man and decided to take you with her.
I hate it when you hesitate to tell me things because I want so baldy to break these barriers that you have built up so high, refusing to let anyone get through to you and try and understand your pains, and if not, try and offer you some sense of comfort.
I hate that I have to be the one who gives a s***, who cares, who would walk on lava for you, who would jump in front of a train for you, who would do anything to see a smile on your precious little face, who would run the mile to catch your every teardrop, and the one who would be just about anything for you, because the truth is I'm so afraid to fail on the job.
I am breathless and overwhelmed with these things etched into my heart, squeezing the life out of me. Nevertheless, I love the pain anyhow because it means I care immensely. I hate the way things are with you and I hate it that I cannot be the completion of what you need, that missing piece that completes the puzzle, the one who erase all your pains. However, I do want you to know that you deserve the best. Kid, you deserve the best that the world has to offer and more. Kid, I hate that you don't know!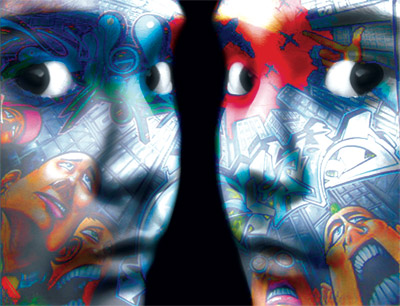 © Francita W., Orlando, FL