The Water
January 8, 2012
"You holding on?"

"Yeah." I turned away from my dad holding on to our boat's hand rail.


It roared and the bow rose out of the water with amazing elegance as if it was a dolphin coming up for air. Beautifully practiced and smooth. The wind rushed towards my face forcing it up my nostrils pushing away all of my body's messages to exhale. I pulled my worn fishing hat, damaged and shabby as a result of much use, off my wind blown curls and down into my lap. I tucked it in my sweatshirt pocket to the place it sat many times before. I looked around at the beautiful bay. It went by much too fast, the boat practically gliding across the water, for me to take it all in. I had seen the birds, and the wrecked boat many times before but each time I saw them I found something different and unique to make me smile in amazement.


I could feel my skin slowly start to tighten like a celebrity with one too many face lifts. It grew dry and my lips became chapped but I didn't care. The sun started to set and my dad slowed down. We came to the part of the trip back where there are houses on the water. You have to go five miles per hour or less not to disturb the residents. My dad offers for me to drive the boat a little ways while he sat and admired the view. I am not old enough but knowing my experience of watching my father slowly turn the white leather steering wheel for thirteen years makes me confident to sit down in the captain's chair.


I grab the wheel and quickly jerk it to the right towards the houses. The boat doesn't move right away so I turn it a little more until the boat, which seemed to be lighter then air only a few minutes ago, trudges slowly through the murky green water. I realize I turned it too far so I do the same thing to the left of the river, all the way down making a zig zig wake as my trail.


When we made it back to the marina I slipped out of the boat onto the dock and gazed at the red and orange hews cascading throughout the sky. That is when I discovered I love the water because it lets me forget my worries and relax.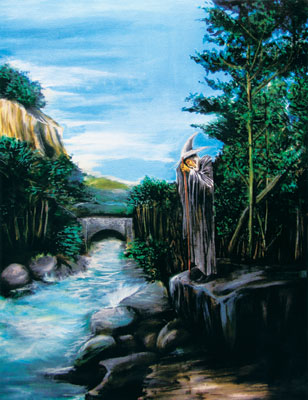 © Mick G., Bellevue, NE