Laughter
September 3, 2011
It's almost Autumn. The sun is shining off the cars as they speed down my street and I hold my breath in anticipation of the gold that will soon surround me. I stare into that webcam, cursing the fact that it's the only thing connecting our faces but honouring it for doing that. September first rolls around, still laced with summer sun and the tan lines echoing on my skin. I clutch my latte and walk aimlessly because what do I have to walk to if not you? Soon the leaves will be a million shades of gold and they will crunch under my footsteps and every crinkle will whisper your name. Because every song I hear, every book I read, every line of slam poetry I listen to at that dimly lit cafe on Commercial Drive I can relate to you. Because you take up my mind, and even though I try not to, I think about you every second.

I feel like when you were holding me on that bench by the ocean, I should have been in the moment more. I should have been noticing your breath or listening to your heartbeat over the seagulls and tourists. I shouldn't have been thinking about the little days I had left with you and I definitely should not have been feeling sad. But I guess in anticipation for having one of the most important things in your life ripped away from you, it's hard to think about anything other than how the hell am I supposed to wrench myself from his arms.

Today you made me laugh. I mean, you always make me laugh. But today you made me laugh until my abs hurt and there were tears in my eyes and it felt so damn good. I haven't laughed like that in a while. Out of your confusion you asked why I was laughing and I didn't have an answer because I don't know. You laughed when I told you it was because I love you so much that I can't contain it sometimes, but it's true. I've never held this much good emotion inside myself and my body isn't equipped for it. It's not prepared to be so happy all the time, so it finds things to be sad about. It dissects every word and looks under all the beds and in all the dark corners of my mind until it finds something to be sad about. The distance. The six and a half months until I can see you again. The way I long for your touch. The time difference. The way your eyes go dark sometimes. Every insecurity left by countless jerks and b****es. It wraps them up in a nice package just to dampen my happiness. But today, I forgot about all of that. I just live in the moment and am grateful for Skype and grateful for your smile and grateful for your love. And forcing myself to feel this happiness made me laugh until my heart came out my nose.

I want to say thank you. Thank you for waiting for me until I got home from work, at one a.m. your time. Thank you for accepting the fact that as a girl I need to be told that you love me often. Thank you for asking me what's wrong and not accepting 'nothing' as an answer. Thank you for not judging me or trying to fix me or freaking out when I told you everything. Thank you for caring about me. Thank you for missing me. Thank you for letting me occupy your thoughts, your dreams, your conversations. Thank you for loving me.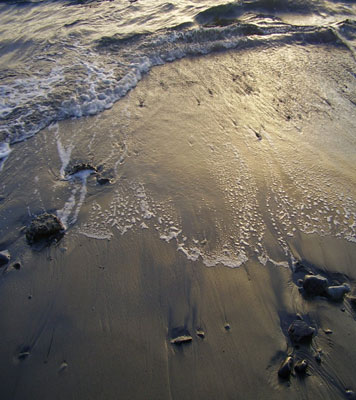 © Tori W., Victoria, BC, Canada