Tears On Your Shoulder
July 17, 2010
At seventeen, I was hardly the beauty queen envied by the entire school. Instead, I was that girl who sat at the back of the class, quiet, always reading and never making eye contact with those above me on the social food chain. I had long hair, which was a boring shade of brown, I was tall but not super model thin, I wore glasses and had a habit of snorting when I laughed.
My best friend in the world was a guy who was in the grade ahead of me. I met him in my dance class by chance and was automatically charmed by his sense of humor. Our friendship was based on solely the conversations that happened over instant messages. His girlfriend was insanely jealous though I swear to you he never cheated.
I fell in love with him fast. I am not the type of girl who overuses the "L word", in fact, it terrifies me to say it at all. I come from a history of abuse and broken hearts, one that I rarely disclosed to anyone, the reason being that people generally freaked and left me hanging like yesterday's laundry. When I told him, instead of running, he comforted me and assured me that one day things would turn out.
As it turned out, they eventually did. He broke up with his girlfriend and suddenly my whole entire life turned around. Suddenly, it was okay for us to spend time together and talk in person. He drove me to work and wanted to hang out. I discovered the reason behind the break up before it actually happened, though. Of course, it was over instant message:
HE says: I like someone else. A lot.
I say: Oh.
HE says: Do you want to guess who it is?
I say: I'd rather you just told me.
HE says: It's you. I'm going to break up with her for you.
He knew that I loved him. He knew that our relationship was special. After he broke up with her, we pretended that we were just friends. We didn't need anyone to think that we had been fooling around beforehand. The girlfriend didn't care though, she wouldn't let go of him and spread rumors like telemarketers spread dinnertime phone calls.
Instead of hiding, he faced it head on. He started walking me to class, bringing me coffee every morning and writing me letters. He'd send me text messages just to tell me how pretty he thought I was and he made me playlists of songs that made him think of me.
I never thought that I could be as happy as I was during that time until one day in late November. He met me outside my Biology classroom with a smile on his face. We hugged and I felt the familiar warm sensation flood me. He gave the best hugs, they felt like a cup of tea on a cold day or my favorite pajamas in the middle of winter.
That was when it happened. He brushed my hair off my shoulder, and whispered something in my ear:
"I love you."
I think I felt my heart stop. I looked at him and I know my eyes must have been the size of dinner plates. I asked him what he had said, sure that I must have misheard him.
"I said that I love you." He repeated, this coy, beautiful smile on his face. "I. Love. You." He enunciated every word, carefully gauging my reaction. "I always have and always will." He said it again: "I love you."
I broke down. I couldn't help it, the tears started to flow and I couldn't make them stop. People were walking past us as though the most monumental thing in my life wasn't happening.
He hugged me tightly and told me that it was okay if I didn't feel comfortable saying it back. We were close enough that he knew that I wasn't a big fan of those words. They terrified me and made me anxious. I figured that as soon as I said those words, the other person would see me for who I really was and run in the other direction.
No one had ever said it first though. I never imagined him saying it, either. He knew every little aspect of my life, from my fear of heights to my allergy to silver to my secrets about my father. He knew that I cried every time I saw Free Willy and that my favorite show was Golden Girls. He knew all of that and he still said it.
I was crying my heart out onto his shoulder, soaking his windbreaker. My heart was beating uncontrollably and I was shaking. His hold made me feel safe. In fact, I think he'd always made me feel safe. He was the only one I could be myself around.
So, that's when I said it, the three words that scared me more than any other thing in the world:
"I love you."
And I meant it.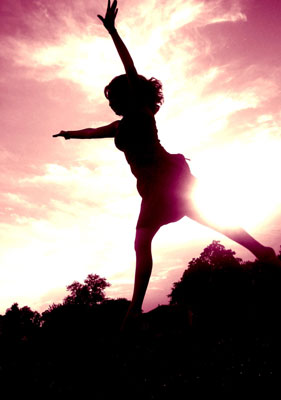 © Martha V., Morton Grove, IL