Becoming Free
November 16, 2009
I'd made up my mind, and now it felt as if it was only Matt who mattered at that moment because whether or not my friends approved of the breakup, it was still something between us and us only. Silently, I slipped away from everyone, though I know they saw what I was doing almost immediately.

I knew where he and his friends were, dancing to the booming music near the edge of the mosh pit. I scooted my way over to him, discretely tugging on his shirt. "I need to talk to you!" I yelled above the noise. He nodded and I began to stride quickly toward the door to the lobby, out of the gym. I was walking too fast, I knew, but I couldn't seem to help myself. I stopped a few feet into the lobby and looked at him as he stood in the doorway.

He leaned against the doorframe, his nice black pants, white collared shirt and black tie seeming casual when he wore them. He gazed back at me, dark brown eyes knowledgeable. "I know what this is about." He blurted.

"You do?" All of a sudden I felt weak, for I had been preparing for him to have been blind to what was going on between us, prepared to give the explanation I had gone over so many times in my head that I could never be quite sure I would get into words correctly.

He nodded gently. "Yeah."

When I spoke, it was almost a question. "I'm breaking up with you." How good it felt to say those words.

"I know." He gave me a small smile and in that moment I couldn't be mad at him, or annoyed or anything I had been feeling lately.

"So you're okay with it?" The relief in my voice was evident, knowing I wasn't hurting him like I thought I would have to.

"Yeah, I'm cool. If you hadn't broken up with me, I would have broken up with you." Evidently he too had seen how shattered our relationship had become.

I smiled at him, gratitude in my eyes. "Okay. Thank you." I reached out and hugged him, and I know that I will never forget the way that felt, to hold him that one last time and know that everything would work out somehow, if not our relationship.

As I walked away, the crowd of anxious faces stared expectantly at me, though it had not even occurred to me that they had been watching. Connor gave me an inquiring thumbs up and I returned it, the emancipation evident in my smile.

I saw Matt later. He was dancing with another girl; her long purple dress and his white shirt, tie hanging undone around his neck, were all I could see in the darkness. I was so happy for him that he could finally be free again.

I looked over and saw Connor and Julia, near the other end of the bleachers. Connor (who is freakishly tall) stood in front of Julia (who's somewhat short). He picked her up and put her on the bleachers. She was exactly his height, her arms wrapped around his neck as he tenderly pulled her down to dance together.

Looking back from Matt and the girl he was dancing with to Connor and Julia, I felt so happy it was as if I could burst, my very seams unraveling with the gladness for them and the tears that gathered in my eyes but were quickly blinked away.

I went home and cried for a long, long time. I couldn't help but remember the way Matt used to smile at me, his warm palm in mine, or the way Connor's voice sounded when he was excited. My head was filled up with images of beginnings, of playing badminton with Connor and laughing together until we got stitches in our sides and the first time I kissed Matt, standing on a street corner in the rain. And then newer images flashed through my mind—Matt, his arms around the girl, Connor, bending down to press his lips to Julia's.

I felt so much loss right then that it rose up to overwhelm me, swallowing me like a vortex of what was. And all I needed was right now, a now to make things better and stitch my heart back up, but all I had was this broken heart and a wristband from the dance that changed everything.

It was in that moment that I needed to get it all out, needed to pour the thoughts and needs into words. I pulled a sharpie from my desk drawer and began to write on my dance wristband about the one thing that my very essence still required but could not have.

I wrote:

"This feeling for Connor is eating away at me, digging deeper and deeper until I am but a heart, just a heart that beats for him with every touch of his eyes to my gaze and every breath we breathe and every kiss he gives her that makes me glad for them but buries a knife in my chest.

"And then I wonder why I can't just tear out this heart and leave only my eyes to see them and my head to prevail over this feeling so that I may be happy for them without the war of guilt and want that rages through me. It is like a wildfire, made to destroy and take from me everything but simple forfeit and defeat, a white flag waving for what I never had but long for and need with every word that touches his lips and breaks my soul."

I don't regret any of the choices I made. I do not mourn my decisions, for I know that somewhere out there tonight, there are three people.

Matt.

Connor.

Julia.

And all of them are free.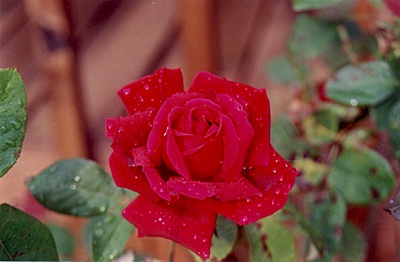 © Jami U., West Hempstead, NY