A Halloween Treat
October 28, 2009
My eyes widened and my breath lodged in my throat so that I could barely speak. Nonetheless, I somehow managed the single word that flew from my gaping mouth. "Becca?" The eight year-old girl who stood upon the doorstep before me grinned, and then so did I. I hadn't realized how much I missed my best friend, who had moved to Oregon, until she suddenly appeared at my front door.

I had been sitting on the comfortable blue living room couch, watching a Charlie Brown cartoon but barely able to concentrate on the show in my anticipation. The yellow sun was fading rapidly from the sky, but it felt to me as if it lingered in the vast blue expanse merely for the sake of prolonging my excitement. I began to sigh for the umpteenth time when suddenly the musical tone of the doorbell rang out through the house. "A trick-or-treater!" I shouted, leaping off the couch, my short eight-year-old legs dashing for the front door. My black costume dress restricted my speed, my witch's hat flying askew as I clutched it to my head with one hand. I skidded to a stop before the nondescript white door, eagerness widening my eyes as my fists clenched in anticipation of the night's first candy-seekers. "Come on, Mom!" I yell loudly, dancing with enthusiasm. It seemed several eternities before my mom reached the door, her hand wrapping around the shiny brass handle as she swung it back. It creaked open, protesting a lack of new hinges, and presented me with a shocking astonishment.

On the front steps of my house two people were situated: my best friend Becca and her mother, who stood positioned slightly behind her. With the diminutive gasp that passed through my lips also came her name, and I knew as a wide grin split her face that it was truly my best friend. It was as if my longing to see her had flown her through the star-speckled dusk sky, only to set her down upon the temporary plastic Halloween doormat before our front entrance. Questions built up like suppressed barrage of water, but before they could splinter the dam and rush forcefully out my mouth, Becca exclaimed my name and embraced me.

Her joyful sea green eyes sparkled as we stepped back, our happy tones comparing our experiences of the past month. For the moment, gone from my mind were ruminations of candy and costumes, replaced by the best friend I had missed for so long. There was no longer any distance between us as we stood mere inches apart, our words and laughter connecting us. It was with great delight that I discovered Becca had brought a candy bag, for when the adults asked if we would like to go trick-or-treating, she produced the cloth bag I had not previously noticed. I showed her my own bag, a soft purple fabric sack that I could not wait to use.

Within minutes socks had been slipped on, coats acquired and shoes unearthed from the jumbled pile of footwear by the door. Yet in the whirlwind of chaos, all I knew was that Becca stood beside me. It was odd, for I could only now comprehend how much I had missed our friendship, missed seeing her wavy blond hair and shining green eyes as she greeted me every day. Losing her had shown me what it was to be without such a remarkable friend, and for that I was all the more obliged to have this short Halloween night to spend together. Soon everyone stood congregated, and we children clutched our candy bags gleefully in our hands, prepared for an adventure. Together Becca and I watched as my mom opened the door, letting in a rush of chilly air. The cool black night opened up to us as our Halloween began.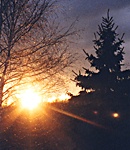 © Christy S., Germantown, NY