September
MAG
Late in September all I hear is the
Familiar hum of the large red and white
International combine.
The local country station blares in my ear, "It's 8 a.m.
In Montana country."
I've only been staring at the amber waves of
Grain for two hours.
The sun is beating down like a fist kneading bread dough.
Already my body has been jiggled to death
From the rough terrain of the tall, golden-yellow
Wheat field.
In the cab there is a thick layer of silt.
It smells of Copenhagen, spilled beer and burnt dust.
The sweat dripping off my forehead
Has formed a small puddle on the floor.
My plain white T-shirt is damp with sweat,
The collar is stretched,
And a brown ring has appeared.
My blue Wranglers are lightly dusted
With the silt from the field.
A good friend of mine is working in the combine right next to me.
We've only made two passes across the infamous 1,000 acre field.
Already, the hoppers are full on both harvesters.
This year is going to be a good year.
As the green grain truck pulls up in the field
And we empty out the hoppers,
The grain flows out like water from an uncappable artesian well.
Now the break is over, and it's time to get back to work.
I can feel the day coming to a close, as
I know, I only have to stare at the continuous,
Golden, sun-bleached waves for another 10 hours.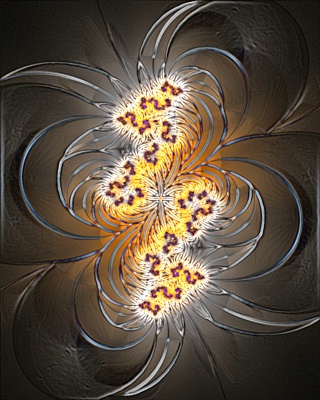 © Anonymous