The Infinity That Matters- Life
February 3, 2014
"There are infinite numbers between 0 and 1. There's .1 and .12 and .112 and an infinite collection of others. Of course, there is a bigger infinite set of numbers between 0 and 2, or between 0 and a million. Some infinities are bigger than other infinities." (John Green, The Fault in Our Stars) Infinity is a difficult concept to grasp, but John Green artfully examined the wonders of infinity and life in his one-of-a-kind novel, The Fault in Our Stars. Through their love, Hazel Grace and Augustus waters learned that in a world of varying infinities, the infinity that they lived, however short, is all that matters in the end.

Augustus Waters feared oblivion. If there was one thing he learned from having cancer, it was that he didn't have forever to live on Earth. Knowing this, he often thought about infinity, and what result his life would have on the universe and time. He didn't want to be another brave cancer patient who fought hard and lost in the end. Hazel Grace reminded him that "there will come a time when all of us are dead. All of us. There will come a time when there are no human beings remaining to remember that anyone ever existed or that our species ever did anything." In truth, he knew that oblivion was inevitable, but it took falling in love with Hazel for him to realize that it was okay.

Hazel Grace feared an inevitable end, too. She feared hurting those around her by dying. Hazel Grace and Augustus Waters knew their love was hopeless- as cancer patients, they could never be sure about their number of days- but they realized that their love wasn't meaningless. They knew that one of them would die first, and they would hurt each other, but Augustus decided, "You don't get to choose if you get hurt in this world...but you do have some say in who hurts you." Later, Augustus told Hazel, "It would be a privilege to have my heart broken by you." What he was trying to teach her was that she would inevitably hurt someone, but the fact that she hurt them meant that she was loved by them, and that's all that matters in the end.

Once Augustus Waters and Hazel Grace discovered what's really important, they could see that the moments they had before their infinity ended mattered more than what happens after oblivion. Hazel stated it best when she said, "Gus, my love, I cannot tell you how thankful I am for our little infinity. I wouldn't trade it for the world. You gave me a forever within the numbered days, and I'm grateful."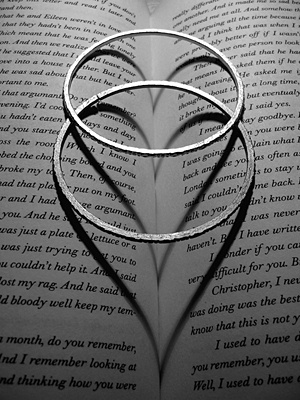 © Julia K., Old Tappan, NJ