Be the Change
May 10, 2011
For the past few days everyone in my grade had been dreading the words Challenge Day. We'd heard it would be emotional, and that we would cry. What person really wants to do that infront of a group of people? Since the school had brought Challenge Day to us I figured it wouldn't be any fun. That we would spend all day bored in an aditorium while some guy told us that bullying was wrong, and that we should talk to others about our feelings. And then sometime during that I would zone out, and everyone would leave having learned nothing.
That is the exact opposite of what happened today. Today was honestly the best day of highschool I have ever experienced. I actually think that after today school will change from everyone being divided, and mean to one another to being nicer, and more accepting. And who are these miracle workers you ask? Well the people we met were angela and Chris, two of the most amazing people I have ever met. This morning I went into our gym feellng akward , and nervous. It didn't help that our teachers high-fived us. Throughout the morning they played music while we would play games. We actually began cheering every time we heard we were about to play a game, and didn't feel self concious when we ran into the center of the gym to dance and jump around. And yes all of this was done with the teachers. We even played a volleyball game where the teachrs were the cheerleaders and the two teams were named "fuzzy cheese", and "pretty pickles".
But after awhile Chris and angela became serious. We had been told that all day we would be stepping outside our comfort zones, and so far we had. Angela drew a shape on a piece of paper that resembled a chicken nugget. Turns out it was an iceberg. Angela drew a water line across the iceberg and told us that only 10 percent of an iceberg is actually above water. She told us that that 10 percent representewd our image, that that was the part that we let people see. She aslo informed us that sometimes we get to focussed on our image and that that's when we become fake. Angela urged us today to let people see all 100 percent of us. she told us to lower our water line.
After lunch and more games we broke down into groups to do a "if you knew me" and after many tears and tissues we did something called "crossing the line" where we step over a tape line if the question being asked applied to us. there were of course was the easy question " if you are under 19 step over the line". But then there were the hard questions like "if you or someone you know has considered or comitted suicide" or " if you have ever felt unloved by a family member or friend" or "if someone in your family has an addiction". And those questions only led to more tears. But today we learned its okay to cry and that crying means you are strong, and that it's a form of healing.
We ended the day with apologies to those we'd hurt. And I hugged someone today I hadnt even wanted to go near today. And that was followed by dancing and more laughs. I learned to truly appreciate the people in school, and that people are actually going through more than it looks. Those that walk through the halls with smiles on there faces were really the ones that dreaded coming to school in the morning. That they were the ones that had considered suicide. That they were the ones that had lost family members. But no one ever knew because we never talked about stuff like this before, we always asumed people were fine because of the smile on their face.
It may be easy to judge someone you see in the halls, but have you ever actually ad a conversation with them before? Have you ever sat with them at lunch? It may be easy to say that you want change, but you never do anything about it. And I assure change can really happen in a highschool. So if you want to see change around you I leave you with three words. BE THE CHANGE.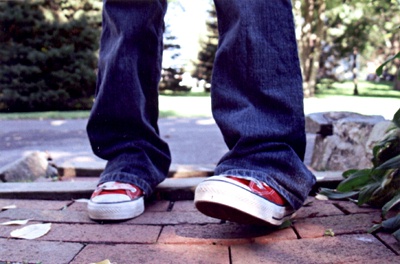 © Sara M., Milford, CT