Teen Depression
December 4, 2009
Did you know that one in every eight teens suffer from teen
depression? Could you be one of them? Even you could be at risk of teen
depression. There are several symptoms of depression, and 10-15 percent
of teens have symptoms of depression. There are also ways to treat
depression and depression should not go untreated. Untreated depression
can lead to many horrible destructions.

To begin, who is at risk of depression? Females are two times more
likely to develop teen depression than males. Abused and neglected
individuals are also likely to develop adolescent depression. Children that
have, or have had a long term illness, teens that have a family history of
depression, and teens with family disruptions at home are also more likely
to develop. The two main causes of depression are: unresolved grief and
emotional detachment. Unresolved grief could come from many different
things: Loss of a family member, relationship, or hopes and dreams.
Unresolved grief can also come from abandonment or a traumatic event.
Emotional detachment comes from from fear or inability to connect with
others.

There are a lot of symptoms of depression including: sadness or
hopelessness, irritability, anger, or hostility, and thoughts of death or suicide
are just some of them. Others include: loss of interest in activities, lack of
energy, and dif?culty concentrating, these are just some of them, and there
are even more. If you have one or more of those symptoms you might have
depression, although you may not.

There are several different ways to treat depression. 20% of teens
with depression symptoms go untreated which is unsettling because of the
high risk of suicide among depressed teens nationwide. The most effective
way for treating depression in teenagers is a combination of both
antidepressants and talk therapy. People with depression are more likely to
stick with combination therapy, until their depressed feelings are under
control. Antidepressants can quickly reduce the physical signs of
depression, such as fatigue and confusion. However, some
antidepressants actually increase the thought of suicide. Although
antidepressants are fast, they have many side effects.

Untreated depression can lead to many different things, none good.
Depression can cause low energy therefore concentration dif?culties. That
could lead to faulty attendance, therefore, a drop in grades or a frustration
with school work. Many depressed teens run away from home or talk about
running away. These attempts are generally a cry for help.

Teens with untreated depression are more likely to commit suicide.
63% of teens that commit suicide show symptoms of depression at least a
year before their death. Males are at much higher risk of suicide, when one
female dies by suicide, four males do. 15% of high school students
reported serious thoughts of suicide in the last year. 11% of them reported
making suicide plans. 7% reported attempting suicide and 2 % reported
having made a suicide attempt that required medical attention. All of this in
the past year, just because of untreated depression.

Teen depression is something parents and teens should both be
aware of, it is a big problem our society faces today. Out of every eight
teens, at least one has depression. It may not seem like a lot but think of
how many teens are in the United States. With that, think of how many may
be depressed, but unable to afford treatment. Untreated teen depression is
the gateway to many different things. Some of the issues we face in our
society today have eroded from untreated teen depression.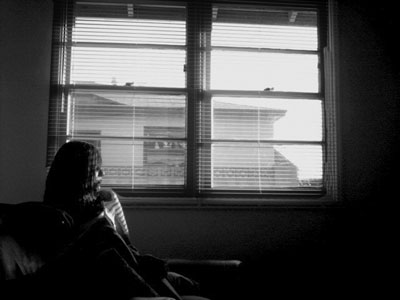 © Roxana R., Tustin, CA