The Beasts Remain
November 22, 2013
I have always suffered from boredom. Always hated the intensely mundane nature of the tasks allotted to me. I want to be intrigued, fascinated, excited. I want adventure. I want a thrill. But there are no adventures left in the world today. There are no uncharted lands remaining. No foreign shore, no untrodden pathways. All the beauties have been found, photographed and catalogued.
But the beasts remain.
That is why I am now standing on this street corner, just beyond the pool of light offered by a feeble street light. I had though it a cliché, but the shadows really are my friends. I have never really been able to get close to people, but these shadows understand me. They caress and shelter me. They care for me- their shadow child. Their shadow pet.
For you see, if one cannot fulfil ones desires and needs in the usual manner, if the normal 'rigours' of life do not appeal, then a new way must be created. Doesn't everyone deserve a chance at happiness? Why should I not also revel in such an experience?
If everybody has looked upon the fabled sunset, then everyone can pretend to understand when you try to describe it to them. They all know- they have been there, done that. And so how can you say that it was a truly unique experience, speak of it touching your soul with love and purity, when it has given the same gifts to every man, woman, and child- pouring out its charms with mocking abundance.
But the entertainment I have planned for tonight…
Very few dare to explore these murkier waters. An exclusive club if you will. And when I tell others of my exploits, they cannot cheapen them with their façade of empathy and wisdom.
I am meticulous, I am careful. I am the silent hunter who moves through a crowd with impunity. I am the teeth in the dark, I am the edge in the wind. I am the shadow's child. Their shadowed hunter.
And when I am done, satiated, finished gorging myself on that which is sweeter than adrenalin. When I have torn with surgical precision and demonic glee, the fabric of another creature's life asunder. Then I shall again melt into the air. Become smoke, ash. It is very simple you see: I am the shadow's child. Their shadowed changeling. I am the beast. And I remain.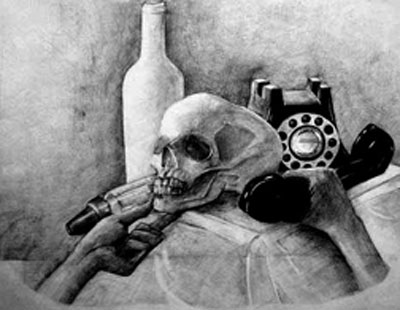 © Xiao H., Naperville, IL