On the Run
MAG
April 20, 2013
A lot of people think that it is my fault. The news and papers criticized me, questioned my mental health. Investigators poked and prodded at my memory. But what people don't get is that, yeah, I was there. And I still hear her screams at night. They rattle around in my brain like marbles in a tin can. I can still feel the impact, see the lights. What they don't understand is that every time I close my eyes, another memory floods in. I haven't slept in three days.


• • •
October 31, Halloween
She is a ghost: a thin piece of fabric draped around her frame, crude holes for eyes. I am a princess in my graduation dress from last year and a stolen tiara. We make quite the crew.
Her pillow case/candy holder is almost full. Mine is barely up to the checkered line. Her laugh warbles out from under the white cloth. "We should hit Johnson Street next," she says. I nod slowly, taking care not to knock off my tiara. Two streets later and we arrive at the first mailbox. She lifts up the handle and the crackle of the shaving-cream bottle sputters to life. White foam spurts all over the crisp envelopes. I don't need to see the smile that is already on her face.
We walk down two houses and she repeats the drill. And again down two houses. But instead of continuing the routine, she stops.
Her finger presses against the fabric in a place I imagine is her mouth. I stop, the candy bag growing heavy, my arms shaking from the cold.
"What?" I whisper.
She shakes her head as if to signal that she doesn't know. I glance up and down the street. The lamps now bathe the wet pavement in a luminescent glow. Kind of eerie.
With a shrug, she bends down and pours more shaving cream into box number 247.
• • •
I still don't understand how the bottle made that much noise, but somehow the car's motor purred silently behind us.
I still don't understand how I didn't scream as the red stained the white.
I still don't understand why my only impulse was to fix my broken tiara. I didn't even remember when it fell. I stood there staring at the half-full bottle of shaving cream, only coming back to my senses when the taillights careened down the empty street.
I guess that's why they thought it was me. Because when help finally arrived, her chest had stopped rising, and the sun had started. I had my head in my hands, my brain not working, not thinking.
I guess that's why I have to hide from her family, because word has it there is a death warrant out on me.
But I am here to set the record straight. She didn't die because of me. And she didn't die of cardiac arrest in hospital room number 247. No, she was attacked on a children's holiday, wearing her mom's sheet and her favorite Chuck Taylors. She was a victim of a hit-and-run.
No matter what they say, I think she would have liked that I stayed, that I didn't run.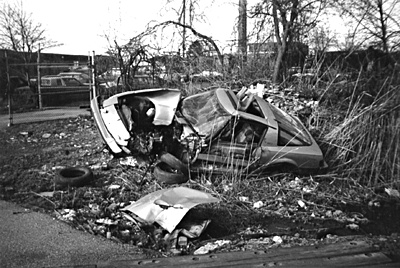 © Ashlee M., Wilmington, DE