The Adrenaline of The Gun
February 9, 2021
Hi. My name is Atticus. You see, a few years back I may have needed a babysitter. Now, not so much. I am 16, but my mother believes that I will get myself into trouble. Although I am not a bad kid, she still thinks I will cause myself a bad reputation. My mom is going out of town. I never thought I would say this, but I think I am going to miss her. My usual babysitter is out of town as well, meaning she cannot stay with me. I like her, she is laid back. I look at the clock and it reads 5:37 pm. The babysitter was supposed to be here at 5:30.
It is 5:57, the babysitter is finally here. I was not expecting this. My babysitter is a man. His eyes are like stone and it is difficult to be sure of his feelings. He makes a weird face. "What's up little dude?" he yells a little too loudly. I am not little. I stay silent. I have nothing to say. My mom stands impatiently waiting for me to speak up. Instead, I turn around and walk to my room.
Later, my mom leaves after explaining all the house rules. That always takes forever, considering my mom is a hover parent. She watches my every move as if I am somehow going to get myself killed. That will not happen, by the way. I am not that stupid. Once she is gone, the house goes dead silent.
"Are you still alive little man?" he says in his loud pitchy voice again. If I'm honest, it scared the life out of me. He is terrifying. Somehow, he got up the stairs and walked by my door without making a single sound. He walks into my room and flashes me a big smile. He walks slowly over to my bed without saying a word and sits down quietly.
We kind of just awkwardly stare at each other for a moment, which makes me giggle. He doesn't say a word. Instead, he looks at me as he gently smiles. "What are our big plans for tonight?" he asks. "Um..." I stutter inadvertently. "Isn't that mostly up to you?" He laughs quietly to himself as he stands up from the bed. "Best believe it is, little one." He says as he grabs something out of his pocket. A gun. I'm not scared, I keep a straight face. The doorbell rings, someone is at the door. "This is how this is going to go, son. You go downstairs, and politely decline the man at the door. He is the real babysitter. You go down there, and you tell him that your mom got a different babysitter. You dare not say a word about me."
I nod my head, to convince him as I'll follow his directions. I head downstairs and decline the man at the door. He seems much nicer but asks questions as to why my mom chose another babysitter. As I give him a false answer, I open my palm towards him, tuck my thumb in, and close my fingers. The signal for help. He understands. As he is able to keep a straight face, he nods to show me that he is comprehending that I need help.
I close the door, and out of the corner of my eye, I see him walk to the side of the house, and crouch by a plant. I turn around steadily, and head back upstairs, following the man's directions. Halfway up the stairs, I hear a loud bang. Like a gunshot. I pick up my pace as I head up the stairs, terrified of what I may find as I reach my room.
The man stands crookedly and has a weird grin on his face. "You really don't think I'm that dumb, do you? You didn't follow my directions, and it cost you another man's life. I peer out of my window into the cold night to see the real babysitter, lying there. Limp. Lifeless. "How stupid are you? Shooting him in the middle of a huge neighborhood? Clearly you have to be stupid enough to do that." His brow furrows and he seems to be angry at my words. "What, are you mad? Try me." I said as I inch closer to him. He is short for being almost ten years older than me. I inch over him, being taller than him by a wide margin. He makes a weird face, then grabs me by the hair and throws me to the ground.
By the time I get up to go for a swing at him, he leaves the room. "Come out here buddy, I got a little surprise for you." I inch slowly outside of my room, afraid of what he has to say. As I see him in my side view, he has a gun pointed at me. I raise my hands, as one would. "This is how this is going to go, young man. I ask one task of you. If you do not follow my directions, I pull the trigger. Tell me where your mother keeps her money and her jewelry." he says.
I nod politely and point towards our storage unit. He turns around and walks quickly to the storage unit, and I slam the door behind him and lock it. He yells, but quite honestly, I don't care. I run faster and I ever thought I could to the phone. The phone simply beeps into my ear as I try to dial 911 with no success. He cut the powerlines. Or someone did. I hear a creak behind me, and for the first time all night, I am truly afraid. I slowly turn my head to see the man with a match in his hand.
"Can't escape me now, huh bud?" He lights the match and slowly bends down and sets the match gently on the ground. I watch the flames grow as my terror goes insane. Out of pure reflex, I run to the kitchen and grab a zip tie and run to the front door. I watch the mans shoes go up in flames as I am running out the door. He does his best in panic to reach the door. I zip tie the door shut securely and run to the front yard. Through the windows I can see all my beautiful belongings turn to soot. I see my house go up in beautiful bright flames and grin. That house may have been important, but I believe my life is more worthy. I peer through the window once again to see the man burn and turn to a pile of bloody ash.
For some reason, I get a rush from adrenaline from this. I saved myself. He tried to kill me, and in the end, I got to see him burn to ash.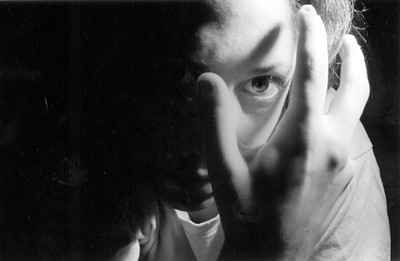 © Julie S., Marblehead, MA