Dreamland
February 20, 2009
The scent of freedom fills the air as I roam through this dreamland. I run with my arms, spread as wings, along the sloping grassy terrain. There is a beautiful meadow off in the distance. I skip towards it. My bare feet don?t feel a thing as I run over the pastel pink rocks. My hair is set free from it?s usual restraining bun. I feel like a young girl again, instead of a proper young lady. The change is refreshing.

I?m in a summer dress; it?s light blue, with yellow daisies on it. The wind catches again and blows my long wavy hair with it. I laugh. It?s light and airy, not forced. The breeze twists and turns me in circles of delight. I giggle again, and I feel as if I have truly transformed into another being.

I run toward the meadow, whose flowers change colors as the breeze sweeps them up. First they?re yellow, like the daisies on my dress. Then, they look golden like sunflowers, but just as quickly as they are gold, they change to orange, then red, and soon they transform through the colors of the rainbow.

I pause, and watch this beautiful occurrence. I?m one with nature. The singing breeze picks me up and leads me into the striking meadow. I stop at the edge. I can?t tell if this whole experience is real or not.

I lean forward, and place a gentle finger on the first flower. It shimmers and sparkles at my touch, and passes a sort of charge through my body. It?s like I?m complete now, with nature?s touch, like I was empty before and now the final piece is here.

My skin glows, and lay back atop the flowers just so I can look at the sky. It?s a brilliant blue, like nothing I?ve ever seen before. It?s absolutely stunning. There isn?t a single cloud in the sky, yet I imagine magical imaginative beings up there. Maybe they think they are imagining me too. I laugh at myself. I sound like such a dreamer, but that is the only explanation for this beauteous place.

I slowly sit up, admiring this dreamland. I hear a soft noise in the distance, and see a dove soaring down towards me, gentle and graceful as ever. It lands on my wrist, and looks at me. I look at this kind bird and smile. I am as relaxed as ever.

Is this heaven? I wonder.

As if it isn?t grand enough, I hear the sound of running water. The dove flutters up into the sky, hopefully back to its family.

I discover a small stream nearby. The water is transparent, but it looks lavender with the lilac stones and pebbles beneath the water. Even the small fish swimming through are striking. They have deep indigo scales that shimmer, which emanate from the surface of the water. It is all so unbelievable. I inhale it all in before I have to go back. I know I will eventually.

It smells like lavender, too. It reminds me of the perfume I always wear to formal outings. I sigh, and remember my other life for a short moment. This place is lovely, but I know I must go back soon. Perhaps now is the time.

I lay on the soft grass once more and close my eyes, imagining. I picture my bedroom, my ball gown on my bed, all prepared for the evening. When I open my eyes I am there, in the room. The heaven place is gone, just a memory; a deeply addictive and wonderful memory.

Dreamland.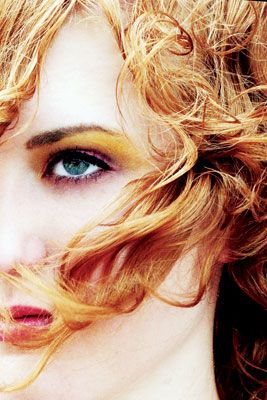 © Rebecca B., Marietta, GA