Stuffed Animal
October 6, 2014
The Visitor
The pink press of a nose tickles my palm and the kitten sighs. It looks up at me with tattered marble eyes and I ask it, "What are you thinking?" The scientists watch with raised eyebrows. They are skeptical. They think nothing will come of speaking to a magical marvle of existance.
The kitten places an arm between my fingers and lowers its head. "You are soft. The emily is also soft."
"Is that the name of your girl?" I ask.
"Of courses. Have you seen hers? She is a very tired girl. She will be missing me," the kitten whimpers.
My throat tightens. "I have not. But I'm sure she'll be waiting for you when you go home."
A scientist coughs and I realize that they have no intention of ever releasing this animal. The kitten knows this too.
It shakes its head and takes a step back. "Nos," it pleads. "Nos, they saids I was never going homes. Please, talks to thems. I have to see the emily. She's mine's. I have to sees her."
The Scientist
The creature is gray, approx. 8" long, made of some sort of ragged cloth.
-chipped marble eyes (blue)
-chipped marble nose (pink)
-stitches at both ends of the tail, the base of the neck, and above and below the arms
The creature looks like it has survived multiple ordeals involving a washing machine.
I have no idea how it is alive, or what gives it it's ability to communicate.
Creature shows no signs of pain when its head is opened up.
It has no brain or nervouse system.
It has no systems period, actually.
It has cotton for organs, and plastic beans for bones.
There is no evidence of what brought this thing to life.
The Object
My name? My prefered name is Cat. I gets called Grey Kitty alots. And Kitty. And Grey. It gets spelled with an e because the emily thinks it's prettier that ways. I guess she still likes me then, even though I'm old. But not as old as she is, I think, because we used to celebrate my birthday first, and on my birthday she'd always say I was as old as her. There was also a feast that day, but I could never have it because I couldn't move. They called it Thanksgivings.
Now I can move, and the emily isn't allowed to sees me anymore. I wonder if she misses me. I misses her. I misses sleeping under her chin and falling asleeps with my nose in her hair. I misses her bed. I misses when things were soft.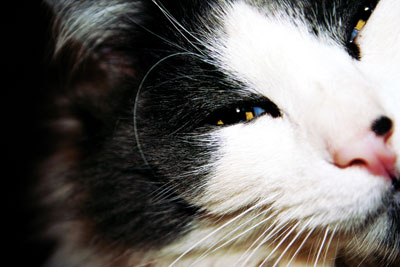 © Monica L., St. George, UT